The FDA Just Approved This Groundbreaking Antidepressant Nasal Spray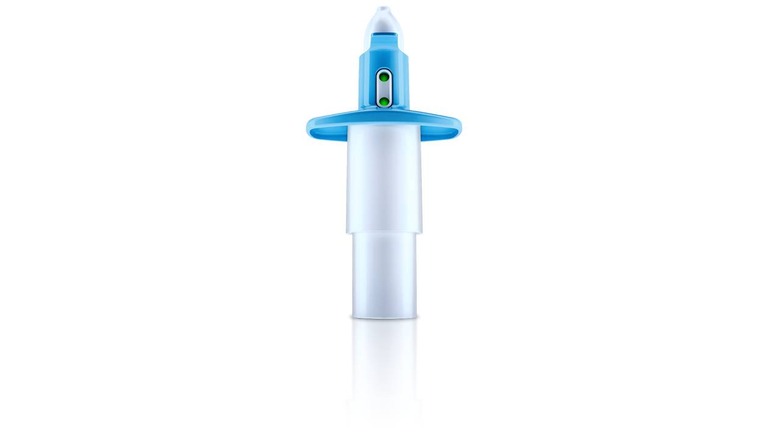 The FDA has announced its approval of Spravato, a ketamine-based nasal spray that can be used with oral antidepressants as a treatment for severe depression. The drug is intended for adults who suffer from treatment-resistant depression and have been unable to find relief through other medications. However, the FDA warns that Spravato's side effects may result in some potentially "serious adverse outcomes," and as such the drug has been limited to a restricted distribution system.
READ: Psilocybin depression treatment gets major new FDA designation
Spravato is the brand name for a drug called esketamine, which is the s-enantiomer of ketamine, a drug that has shown promise for curing treatment-resistant depression.
The FDA approved ketamine as a general anesthetic (Ketalar) back in 1970, but this marks the first time the agency has approved esketamine in any form. The medication was granted breakthrough therapy and fast track designations, and its efficacy was assessed over multiple clinical trials.
Ketamine — and its esketamine form — can be used recreationally as a dissociative hallucinogenic, which accounts for the FDA's distribution restriction. According to the FDA's Division of Psychiatry Products Center acting director Tiffany Farchione, MD, Spravato will only be available in "a certified medical office" where the drug will be administered and the patient will be monitored.
Esketamine can potentially cause dissociation and sedation in patients, according to the FDA, and there's the risk for abuse. The agency said that a health care provider is required to observe patients who receive the drug for at least two hours after it is administered. Patients are not allowed to take the spray home.
These restrictions introduce some challenges that aren't present with oral antidepressant medications, but the drug offers a potential solution for individuals who have suffered with treatment-resistant depression. In one short clinical trial, according to the FDA, improvements in depression severity were observed in as few as two days.