The extremely shiny Diamente USB Mouse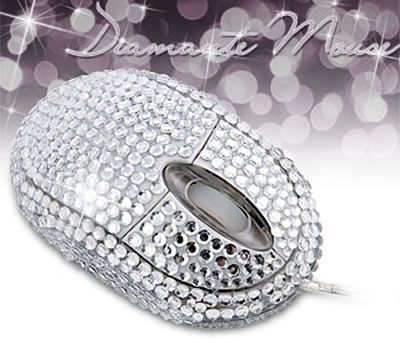 A mouse for the general public is typically a boring accessory to an average computer. However, for those of us that live and breath through the computer we need awe-inspiring accessories to accompany it. This sparkly mouse is just the thing to sit next to any pink and/or sparkly keyboard.
I have my mouse that I like to show off to everyone and for me, it fits, it's a gaming mouse with more buttons than I can handle. Yet, it is my pride and joy right along side my illuminated keyboard. So I understand the need for gadgets that fit your needs and personality. For me, this mouse would have every one of its faux diamonds picked off in a week, but for someone else its perfect in every way.
The mouse measures 10 x 3 cm and is being sold online for about $55. Which is much cheaper than some of the Swarvoski adorned gadgets that have popped up here and there.
[via geekalerts]