The Dicota Pep Up Junior Messenger Laptop Bag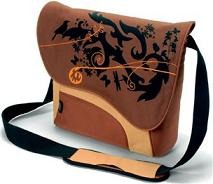 If you're in the market for a laptop bag but need a little more storage this bag from Next has enough pockets to keep anyone covered. The Dicota Pep Up Junior Messenger Laptop Bag has the longest name of all time, I wish they would slim these names down a bit. Is it really necessary to call it all of that?
Although it has a long name it is a style that is more practical than most and keeps things casual as well. Not everyone needs the high end styles that will hold your laptop and maybe a pen. Although that pen may be pushing your luck a bit.
It will carry notebooks up to 15" it also has an extra internal pocket for documents and any other mobile equipment you might wanna carry around. It also features a zippered front and rear pockets for additional storage. The bag comes in gray or brown and is priced at just under $72.
The Dicota Pep Up laptop bag from Next is perfect for Halloween [via shinyshiny]