The Chinese Take-out Lamp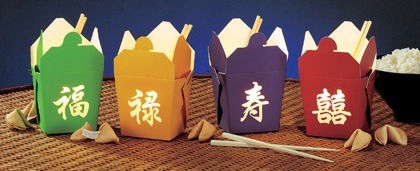 Looking for a lamp to add a quirky twist to your home? These Chinese Take-out Lamps will do just that.
These lamps are by no means new; matter of fact I bought one for my sister a few months ago. They are really cool. Upon purchasing I was a little concerned since it is made of paper. However, it is heat resistant paper and thus far hers hasn't caught on fire. I know online sometimes things look better than they do in real life, but in this case these are just as awesome in person.
Each carton has real chopsticks and wire handles and the chopsticks do actually look real. The four different colors are lime green for good luck, gold for achieving wealth, violet for vitality of life and red for happiness. They are priced at $14.95.
Chinese Take Out Lamps [via Nerd Approved]