The Blaze comes with Sega Genesis games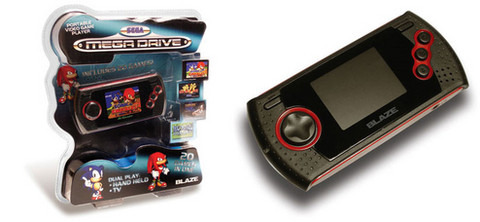 If you're missing the days of playing on your Sega Genesis, you might consider picking up the Blaze. Which is preloaded with all kinds of games that you likely used to play on your Genesis.
It is actually specifically preloaded with 20 different games. The controller set up itself is also identical to your old Genesis. Of course being preloaded with games means some of the games aren't going to be worth it, however, there still are a few good ones in the mix.
To list off a few it includes Sonic and Knuckles, Golden Axe, Shinobi, Ecco and the Dolphin, Alex Kidd – Enchanted Castle, Alien Storm Altered Beast, Arrow Flash, Crackdown, Decap Attack, Kid Chameleon, Dr. Robotnik's Mean Machine, Ecco Junior, Flicky, Gain Ground, Jewel Master, Sonic Spinball and Shadow Dancer. It is being sold for about $60.
[via crowded brain]