The Best Nerdy Gift Ideas for Men and Women (Christmas 2016)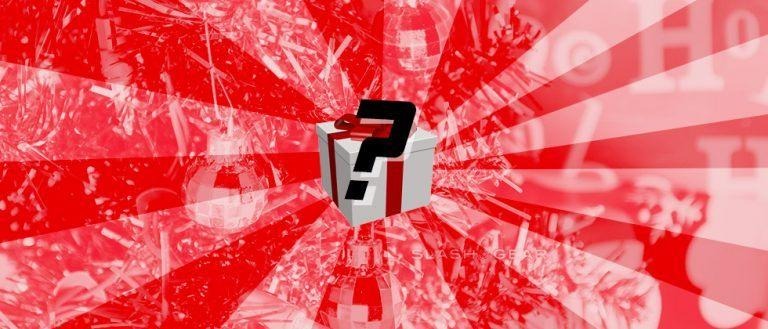 We may receive a commission on purchases made from links.
Our 2016 collection of "Nerdy" gift ideas for both men and women includes offbeat products we really love. We have personally tested each of the products on this list and have enjoyed their abilities and features thoroughly. Some items are meant to be helpful – tools and such – while others summon our most base joy centers. We're talking about toys for adults here – moms and dads, here – in a list made with the SlashGear reader in mind.
NOTE: This guide is not just for Christmas, it's just that the vast majority of searches done around this time of year appear to include Christmas cheer. People of all sorts search for "Christmas" gifts around this time of year, regardless of their religious holiday search, be it Yule, Hanukkah, or Boxing Day. As such, the gifts in this guide are for all sorts of people.
1. Polaroid Remote Controlled Panorama EyeBall Head
This is a tiny device that spins things around on a pedestal – things of all sorts. It's meant to be used with a smartphone, any smartphone, which will benefit from this ability whilst capturing a panorama photo. The ball's built-in battery is recharged with micro-USB, and the remote has its own battery (so it's good to go right out the box).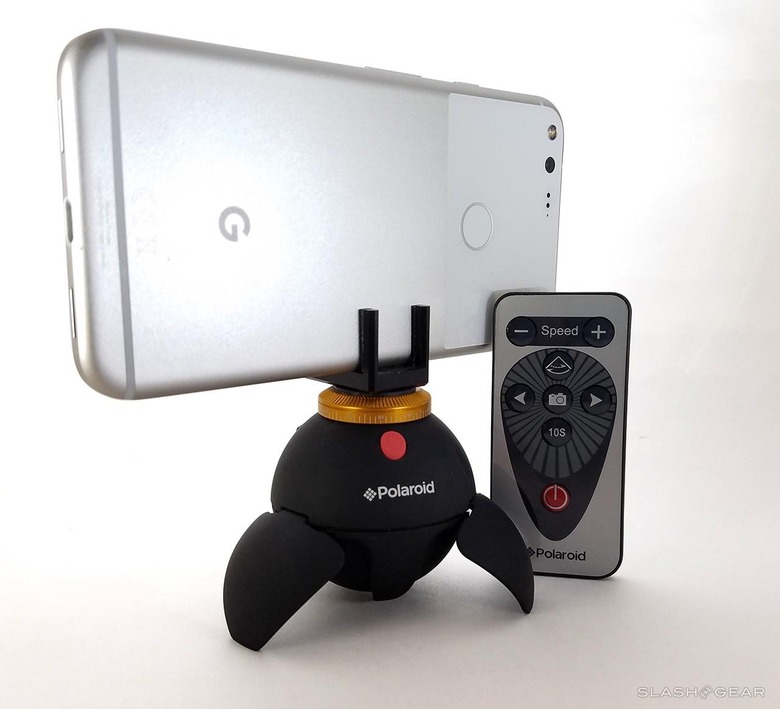 There are several types of device like this out in the wild today, made by several brands. The one we've tested has the Polaroid brand, and it works splendidly. The video below was captured using this device – it's versatile!
The Polaroid Remote Controlled Panorama EyeBall Head can be found on Amazon for a cool $50 USD in a special magnetic package. This package includes a "Polaroid Magnet to Tripod Adapter Mount For Polaroid Cube Action Camera" – the Polaroid Cube Action Camera is another awesome device, but not necessary to make use of this EyeBall.
2. Pixel Pals
These are some of the simplest display-friendly pseudo-action-figures we've ever seen. There was little for us to test out, really – two AAA batteries are inserted in the back of the device and the device is switched on. The front of the device is lit up in an array of lovely colors – it's simple.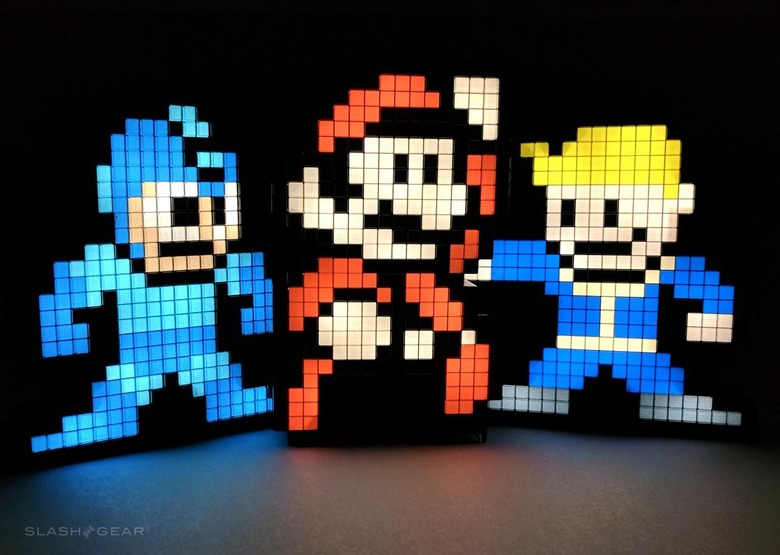 While $15 for a device that lights up might normally have an uneven lighting surface, or low-quality plastic, or no batteries included in the box, Pixel Pals do not disappoint. Light is completely even across the surface of the front of the Pixel Pal. The plastic in each Pal is tough enough to withstand some toddler-level punishment. Two AAA batteries are included in the box.
These three models are set to become available at GameStop locations across the United States this month. Starting on the 25th of November, each Pixel Pals figure will be available for $15 USD.
3. Striker Concepts FLEXiT flexible flashlights
Three models of Striker Concepts' FLEXiT flashlight are out in the wild today. Each of these lights has an array of LED bulbs set on a grid with flexible frames. They can sit up by themselves, bend and twist, and attach to metal with neodymium magnets.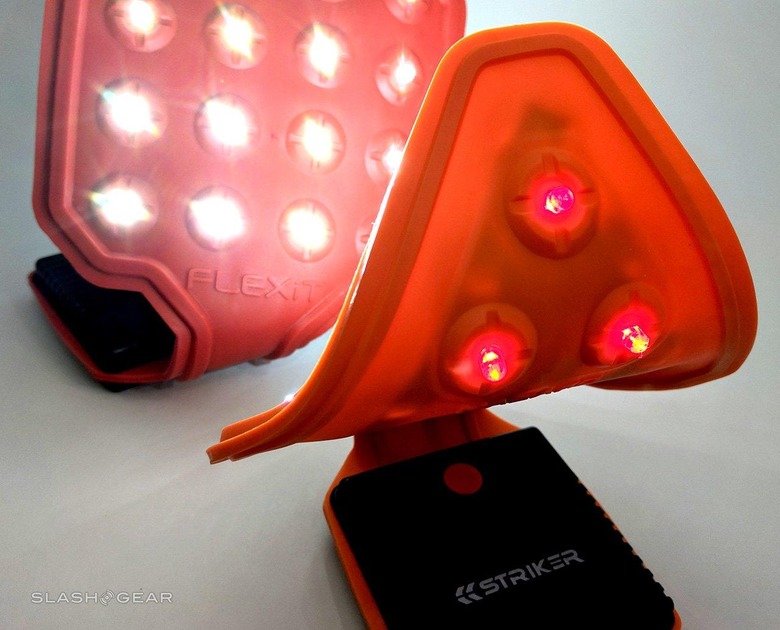 There's a 200-lumens bright model called "2.0" and one very similar called "4.0" with 400-lumens of brightness. Both of these models blast light in a square grid, and can be twisted in a tube to provide light in all directions. The FLEXiT AUTO has a triangular shape, not unlike a traffic cone.
The AUTO FLEXiT has a blink mode where its back-facing red LEDs blink – perfect for a road warning. Each of the other FLEXiT flashlights also have blinking modes – though theirs are so swift and bright, they'll just as likely cause seizures as catch your attention.
All three of the current era of FLEXiT Flexible Flashlights are available from Striker Concepts on Amazon right this minute. The 2.0 light with 200 Lumens is $29.53, the 4.0 light with 400 Lumens is $40, and the AUTO light with 180 Lumens and flashing red LEDs is $25 USD.
4. Plus Star Wars Mini Bounty Hunters Set
These little beasts are made of parts very similar to those of ThinkGeek's various plush bouquets – of which they've made several. Materials include polyester fiber and Star Wars love – and they all machine wash cold. Each bounty hunter is 4 1/2" tall and all are recommended for ages 3 and above – but we know who'll love them the most: Star Wars fans of all ages.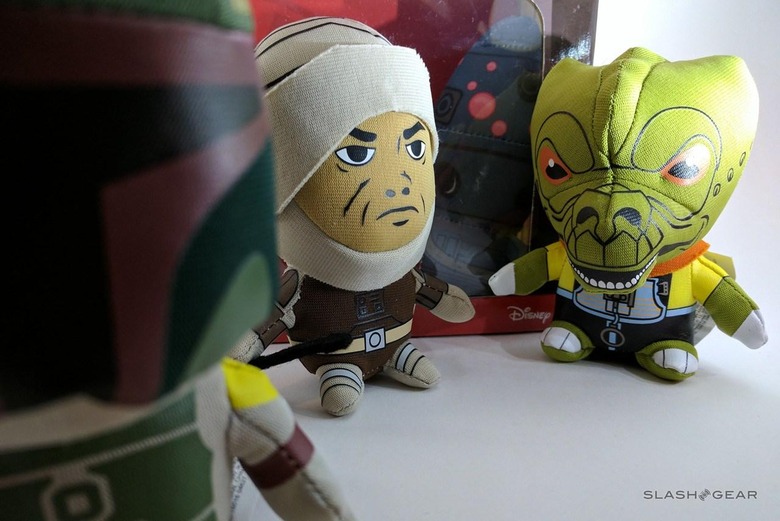 There is no current better way to show one's love for these bounty hunters sitting on one's own dash. Each super-deformed bounty hunter is packed with a bit too much stuffing so that they'll only be good for tossing – they're loathe to stand up on their own. Boba Fett, IG-88, Dengar, and Bossk are included in this set.
At press time this set of bounty hunter plush action figures will cost a cool $18 USD – they normally cost closer to $30. This set is exclusive to ThinkGeek and an officially licensed Star Wars product.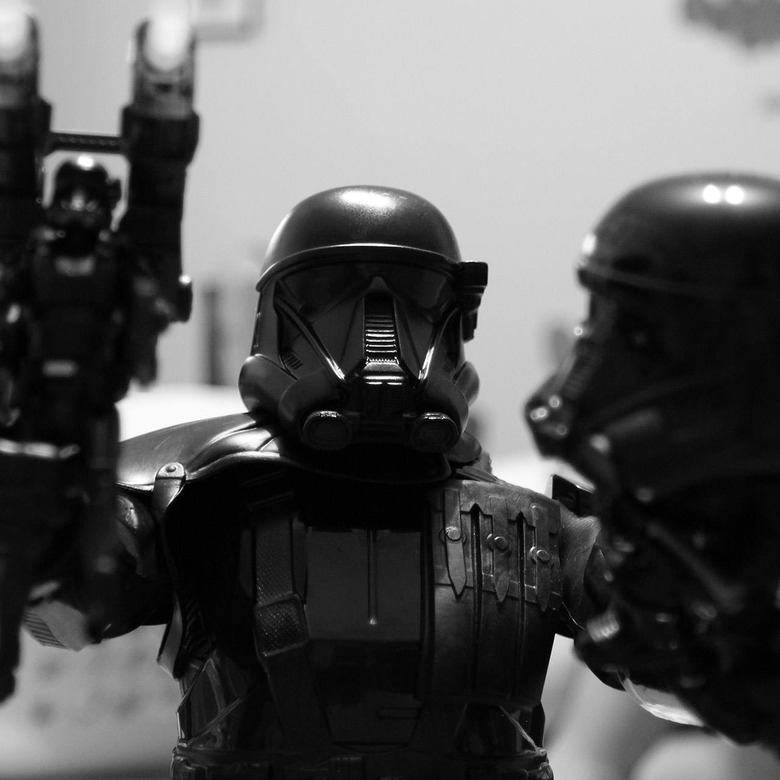 NOTE: For those seeking Star Wars gifts from the newest Star Wars film, have a peek at our Rogue One toys review – also perfectly legit for fans of all ages.
5. LEGO Dimensions expansion sets
The game LEGO Dimensions is fun, sure, but what we're recommending here isn't the game itself. Included in the expansion packs for LEGO Dimensions is a collection of LEGO Minifigures and LEGO pieces that cannot be found anywhere else, with only a few exceptions. Marty McFly, for example, can be had in one other Back to the Future set, but Portal's hero Chell only appears here.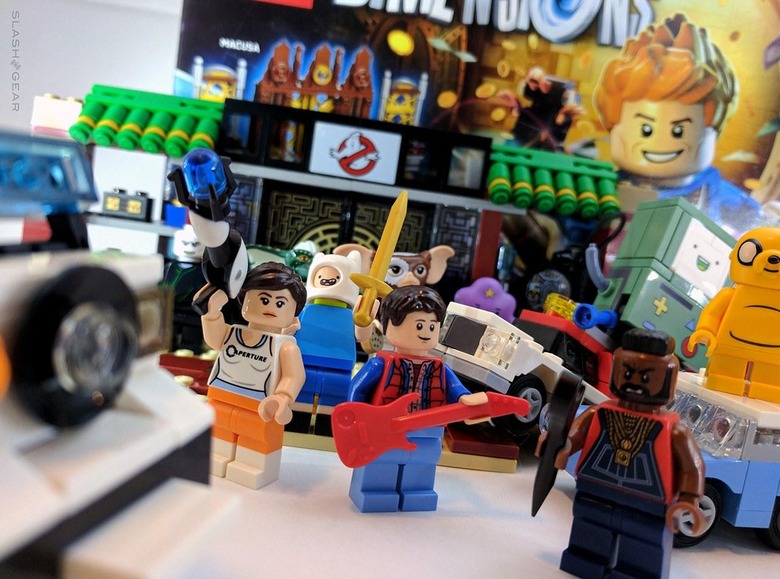 LEGO fans might find these packs to be ever-so-slightly too expensive to purchase just for the LEGO pieces if they don't want to play the video game. That leaves the window open for friends of LEGO fans to buy these sets as gifts.
Some "Fun Packs" cost around $10, while "Level Packs" cost $25. More expensive packs exist, but you might want to stick to the cheaper packs unless you know your gift recipient plays the game. The entire LEGO Dimensions collection can be found in the LEGO Store on Amazon.
6. Razer Kraken Pro V2 headphones
Generally I'd stray away from recommending any gear from one brand, but for gift giving, Razer does extremely well. Their latest in top-end headphones, for example, is the Kraken Pro V2. This pair of cans is made for gaming enthusiasts, but wouldn't be out of place on the ears of anyone with a love for heavy-duty sound and headphone comfort.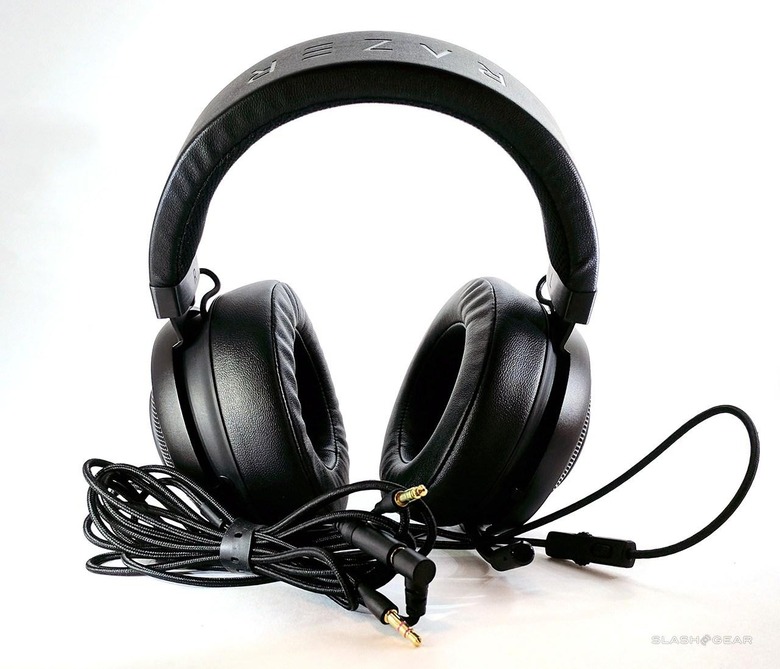 In the past, Razer products were largely relegated to gamers due mostly to their loud aesthetics. Now the company's look has matured somewhat, allowing headphones like these to keep their logo (a 3-headed snake) while allowing the wearer to appear low key in public. This is good news for everybody, as these are amongst the most comfortable and sound-accurate headphones on the market today.
The Razer Kraken Pro V2 headphones work with 50 mm drivers, sensitivity of 118 dB (at 1 kHz), frequency response between 12 Hz – 28 kHz, and Impedance: 32 Ω (also at 1 kHz). These headphones have a combined audio+mic jack and include a converter cord with microphone mute toggle. While there is a unidirectional ECM boom microphone in this set of headphones, it retracts – for those that don't need it.
The Razer Kraken Pro V2 can be purchased through the Razer store on Amazon for $80 USD. The same store has a load of awesome gaming products any PC user wouldn't say no to. Just make sure they don't mind extremely bright colors if you opt for one of the products with Chroma color inside. The video above shows Razer's Chroma colors active on several products which we also have reviews of in our Razer tag portal.
7. Poke' Ball Serving Bowl Set
If by any chance there's a person on your gift list that likes Pokemon, the simplest gift you can give them is this couple of pieces of plastic right here. There's not much to them, really – they're just a couple of bowls. But together, they make a rather sizable Pokeball.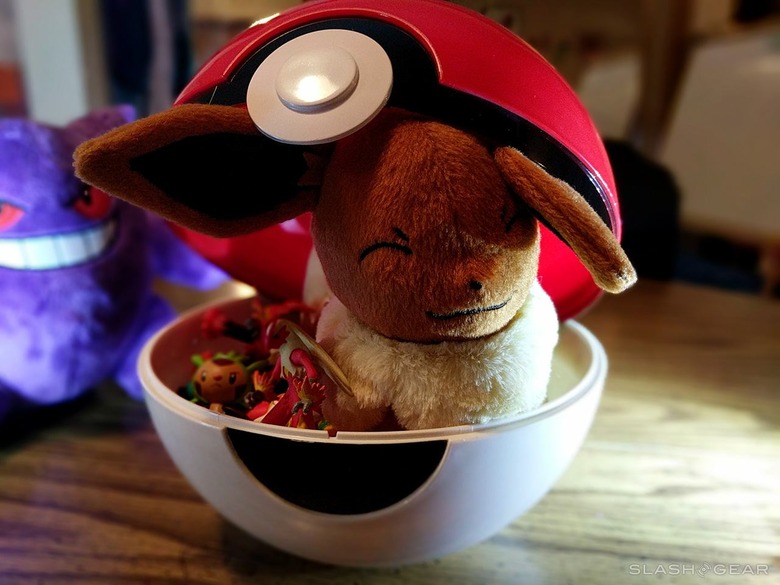 These bowls can be used for what they're meant for: popcorn, chips, and goldfish crackers. They can also be used as we're using them here: for display and entertainment. As it happens, this giant Pokeball is the perfect size for TOMY-made Pokemon stuffed animals as seen in our best Pokemon toy ever article published earlier this year.
The bowl set we have here has a bunch of TOMY Pokemon action figures in it as well. The figures come in packs that cost less than $20, while the stuffed animals cost around $13 – both are available at department stores like Target. The Pokeball Serving Bowl Set comes from the ThinkGeek store online and currently costs half its normal price: $10 instead of $20.
Wrap-up
We've included one entry above for Pokemon and one for Star Wars. One for the avid smartphone user, one for those that like lights. One for lovers of LEGO, a pair of high-end headphones, and the least expensive gift for a gamer we've ever recommended.
Again, these gifts are meant for everyone – not just men, not just women, and certainly not just people that consider themselves nerdy. It's always a good time for nerdy gifts. Have a peek at our Gift Guides tag portal for more ideas for gifts this holiday season.
SlashGear uses Amazon affiliate links, and if you buy something we may get a small share of the sale. This in no way affects which products we pick for gift guides, buyer's guides, or reviews of any sort.