The Beatles coming to a video game near you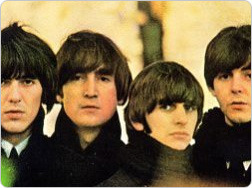 There have been rumors floating around about The Beatles' music being included in an upcoming video game for quite some time, but now the information is confirmed. The Beatles will have their music included in an upcoming title from Harmonix and MTV, the former of which is responsible for Rock Band.
The title will not be a part of the Rock Band series, as previously thought and will instead be a separate game. This game will be devoted to the Beatles and the Beatles only, and will include much of their music throughout the years. Due sometime in late 2009, the game is supposed to bring more people to Beatles' music and help a new generation get to know them.
Sir Paul McCartney and Ringo Star contributed to the project as did Yoko Ono Lennon and Olivia Harrison. In other news, an online store release of their music is also expected in either late 2008 or sometime next year. Good to know that the Fab Four will be included in all of these modern endeavors.