The Atom Z670, Intel's Answer To Tegra 2

This is big, Intel finally dropped a system on a chip on us. Today, they announced the official release of their new Atom Z670 CPU codenamed "Oak Trail." It's a 45nm chip with graphics and memory control on the same die. That lines up this chip to be a direct competitor to the ARM based chips we're seeing in virtually every other tablet. Intel has seemed to be a bit behind the game in the mobile market, but the "Oak Trail" might be their ticket to the show.
The success of nVidia's Tegra platform was based on it's ability to run graphics and CPU functions on the same chip. This gives the device designers the leeway to shrink the board down to the sizes needed in the smaller and lighter computers that consumers are clamoring for. Thus far, there haven't been any real competitors to the Tegra system.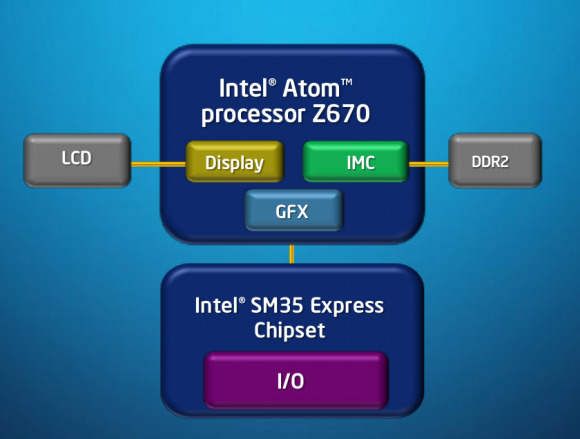 You can find the Z670 into their EeePad Slider, Lenovo's Ideapad Slate, the Evolve III, and in other offerings from Fujitsu and Motion. So, this ship is sailing with a full contingent of partners already lined up for release. Intel is also marketing this chipset for use in low power embedded systems for medical and industrial use. It looks like they finally have something that can stand up and play in this market with ARM.
[via Intel Newsroom]
Intel announced that its Intel® Atom™ processor Z670 based platform, formerly codenamed "Oak Trail," is now available and will be in end user devices beginning next month. Over 35 innovative designs from companies including Evolve III*, Fujitsu Limited*, Lenovo*, Motion Computing*, Razer*, and Viliv* are based on the new technology and running a variety of operating systems. Purpose built for tablets, the platform offers increased battery life, enhanced performance especially around video, and several other new features. The series is also suited for a range of portable embedded designs such as mobile clinical assistants, ruggedized industrial tablets and portable point-of-sale systems.