Fujitsu reveals high-res Ultrabooks and 2-in-1 hybrid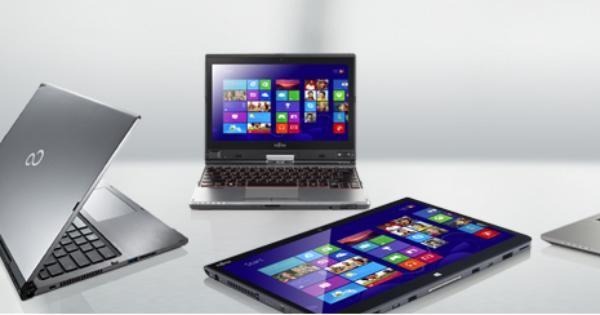 The arrival of Intel's latest generation of Core processors have unsurprisingly ushered in new notebook and PC models bearing them. Getting a head start for MWC 2015 in March, Fujitsu is announcing the arrival of a new breed of LIFEBOOK and STYLISTIC computers. This new batch, comprised of a regular clamshell type, two 2-in-1 ultrabooks, and a hybrid tablet, not only boast of the latest 5th gen Intel Core chips but also a new standard port replicator that makes them compatible with Fujitsu's new docking station.
The LIFEBOOK S935 is a 2-in-1 device with a 13.3-inch display that aims to combine the power of an ultrabook with the flexibility of a tablet. That displays comes with choices of Full HD or WQHD 2560x1440 resolutions, with an additional option for touch support. The LIFEBOOK T725 has a smaller 12.5-inch screen with a lower 1366x768 HD resolution but comes in a swivel design that easily converts the laptop into a tablet.
Fujitsu LIFEBOOK S935
Fujitsu LIFEBOOK T725
The 14-inch LIFEBOOK U745 boasts of a very slim profile of only 19 mm and a weight of only 1.55 kg. Though larger than the previous LIFEBOOKs, the U745's screen resolution only reaches 1600x900, which unfortunately misses the 1080p mark. It does make up for that, however, with a suite of enterprise-friendly features, including PalmVein sensor security and a VGA output.
The STYLISTIC Q775 2-in-1 hybrid delivers that familiar tablet with keyboard dock design in 13.3-inch size, happily with a 1920x1080 pixel resolution. The same security features like PalmVein Sensor does position this hybrid as a device that is designed for both fun and serious work.
In addition to these new devices, Fujitsu is also announcing a new standard port replicator that makes them compatible with a new docking station. This station is designed with a modular concept in mind, letting users replace certain parts for more favored features, like switching out the optical drive for a second battery or a hard drive. The dock offers users a desktop experience and can easily undock their devices using only one hand with a flick of a switch.
The new LIFEBOOK and STYLISTIC computers, as well as the new dock will be showcased at MWC 2015 in Barcelona starting this March. Availability and pricing are yet to be announced and will vary by market.
SOURCE: Fujitsu