The Arachni-Labra Chandelier for the Halloween fanatics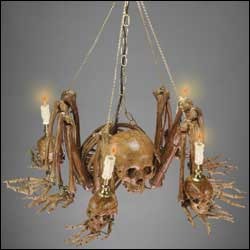 If you love all that is all that is Halloween, then you'll be yearning for some extra cash to snag this thing. Although the chandelier may seem extreme for some there are those that enjoy Halloween no matter what time of the year it is.
Whether you're thinking of creating a haunted house to live in or just like to go over the top with you yearly decorations this chandelier is fun either way.
It measures 20"w x 12"h x 24"d and weighs 19lbs. To snag one it will cost you $375 and hopefully its fairly easy to instal but no word on if its just a hook and a power cord or if it takes drills and an electrician.
Arachni-Labra Chandelier [via nerdapproved]