The Antec Sonata Elite claims to be extremely quiet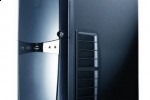 Many of us, especially gamers get sick of the loud noise our desktop PCs make, that's why Antec has created the Sonata Elite. This case has silicone grommets that are use to reduce vibration by a significant amount and in the end reduce the noise put out by your desktop.
This large case has room for seven total hard drives as well as plenty of expansion slots inside this two-layer steel design complete with a plastic side and top panels. The 120mm fans spin slower while providing a very similar amount of airflow compared to smaller blades that do so at higher and louder speeds. Cleaning this beast is made very simple with the addition of removable and washable filters.
The Sonata Elite case will support Mini-ITX, MicroATX and standard ATX motherboards, including a couple of front-mounted USB, one eSATA and HD-compatible audio in and out ports. There is also a split of three 5.25" and four 3.5" baysm alongside a single 5.25" to 3.5" adapter.  The Sonata Elite will sell for about $120 with no release date just yet.