The Alpine A110S is a feistier sports coupe you still can't have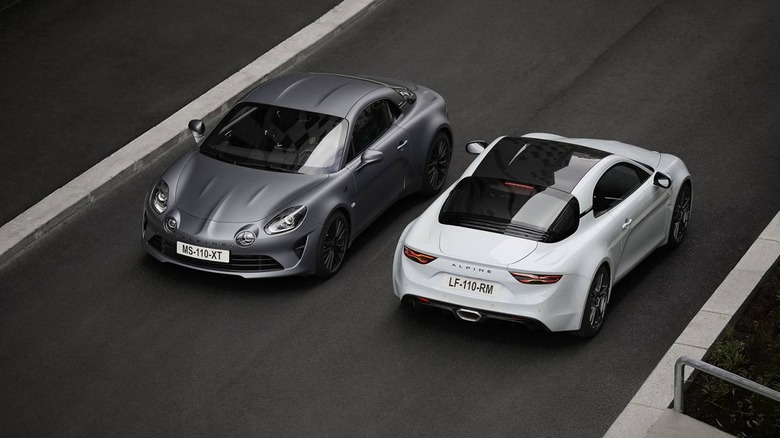 It's fair to say we still haven't got over Alpine refusing to bring the punchy little A110 sports coupe to the US, and the more aggressive new flagship A110S is going to do nothing to placate us. The mid-engined European two-seater returned the Alpine name to roads back in 2017, and now the line-up is gaining a third version.
The Alpine A110S joins the A110 Pure and A110 Légende as the most expensive – and most powerful – of the bunch. According to the automaker's chief engineer, Alpine opted to make its first A110 versions with the same ethos of the 1970s cars which inspired them. As such, "just like that classic model they're playful and fun to drive," Jean-Pascal Dauce observes.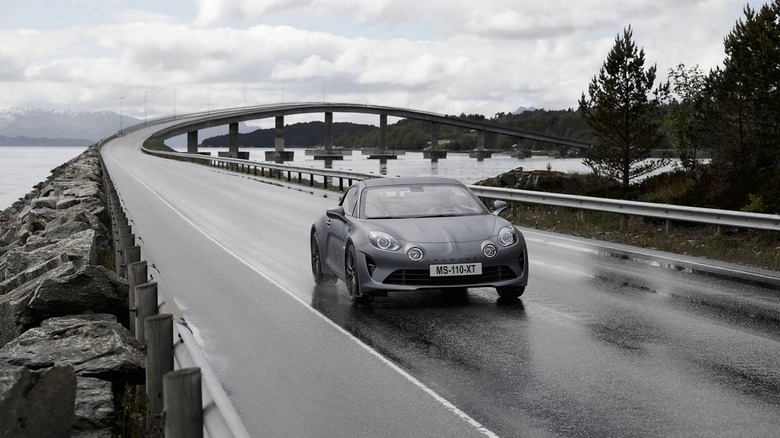 For the A110S, though, Alpine had something new in mind. "The A110S has a very different character," the chief engineer explains. "Its bespoke chassis setup makes it a very focused sports car. High-speed stability and handling precision are two of its defining characteristics. Although lap times are never a priority for our road cars, the new A110S is nonetheless faster than the A110 's other versions."
So, the 1.8-liter turbocharged four-cylinder engine now gets 288 horsepower, up almost 40 hp over the earlier cars. Torque is 236 lb-ft, and sticks around at its peak for 1,400 rpm higher than in the regular A110. As before, there's rear-wheel drive and a seven-speed dual-clutch transmission, but a brake-based e-differential system promises different cornering behavior.
At under 2,500 pounds the goal, though, is still agility through lightness. Alpine uses an aluminum body structure but with 4mm lower ride height and 50-percent stiffer coil springs. The hollow anti-roll bars are now 100-percent firmer. New wheels and tires – shod in Michelin Pilot Sport 4 rubber – deliver more grip, the automaker says, and the A110S gets the upgraded Brembo brakes and 320mm bi-material discs that are optional on the car's other variants.
The result, Alpine promises, is better high-speed stability, more responsive steering, and improved handling precision. The ESC has been retuned, and you can still turn it off altogether if you prefer.
As for the styling, there are new GT Race wheels with a dark finish, carbon fiber and orange flag detailing on the rear pillars, and orange brake calipers. Gris Tonnerre matte finish paint is an exclusive option for the A110S. A carbon fiber gloss-finish roof is optional, and cuts almost 4.2 pounds, while there'll also be optional lightweight Fuchs forged alloy wheels.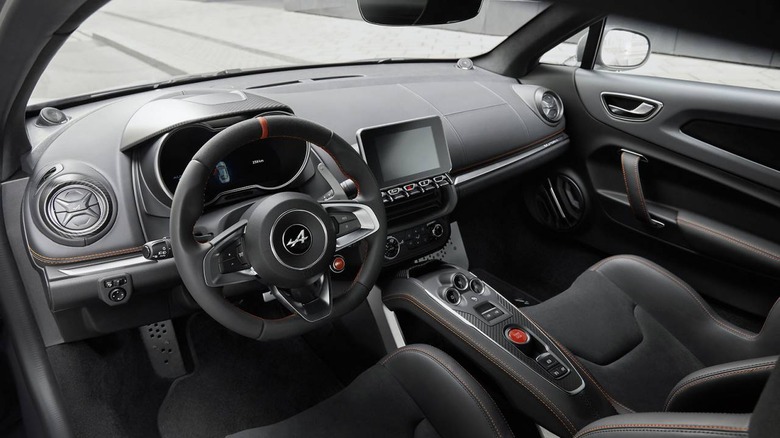 Inside, the blue A110 stitching is replaced with orange, and there's black Dynamic upholstery on the roof lining, door panels, and visors. The lighter Sabelt seats, too, get the same fabric, and there's a leather and Dinamica wrapped steering wheel. More carbon fiber and orange emblems are scattered throughout, and there are lightweight aluminum pedals.
Options will include carbon fiber finish for the seats, while the Focal audio, Alpine Telemetrics, and parking sensors are all standard. The goal, Alpine says, is a car which can be used every day, despite its responsiveness.
Sadly there's still no indication that those of us not in Europe will get to try that day-to-day usability ourselves. The new Alpine A110S is available to order now, priced from 66,500 euro ($74,500), and will appear in dealerships from October. Deliveries are expected by the end of the year.