The Alba Make Art Clocks may get your artwork sold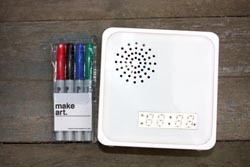 If you're just itching to get your art out there and on some kind of a product, these little Alba Make Art Clocks are a nice chance. Plus for those without artistic ability you can pick up unique looking clocks without having any artistic skill.
They had already released the clocks with art already on them, but suddenly decided to give other artists a shot. This seems to be a limited release since there are only 25 of the plain white clocks that will be released so you'll have to get to them quick.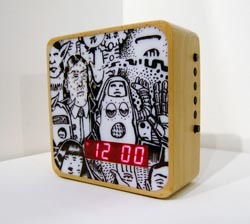 The white clocks come with a few different Sharpies to get you going. That set is being sold for $88 but for everyone else that wants the already decorated types it will cost you $150. A third of that will go directly back to the artists themselves. When you are done decorating your clock, just send a photo in and they may select your work to be printed onto other clocks.
[via coolhunting]