The AeroDream One Offers Tons Of Power And Compensation For Manly Shortcomings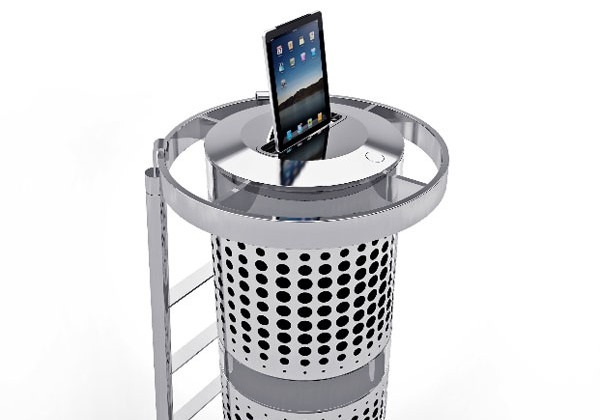 Jarre Technologies has unveiled a gigantic media player that has a massive amount of power. The device is called the AeroDream One and it has a dock up on top of the spire that supports the iPod, iPhone, and iPad. You have to climb up the tower by connecting the shiny metal ladder to the hoop around the top. The ladder is included with the purchase of the AeroDream One.
The power output is as impressive as the size of the tower. It has a total power output of 10,000W and a five-channel amp inside. The bottom-mounted subwoofer has 4,000W of power alone. It has a pair of mid-range speakers with 1,600W of power. The two high range speakers pack in 1,400W. Talk about room filling sound.
The AeroDream One comes in chrome, black, or white colors and is custom made. It looks more like some sort of core for a warp drive than a media player to me. You can order one right now if you have the money, the beast is € 399,000 and takes 6-months to build. It also comes with two tickets to a Jean Michel Jarre concert. Apparently, the designer is an electronic music composer and performer in Europe.