The 911 RSR is Porsche's first-ever mid-engine 911 race car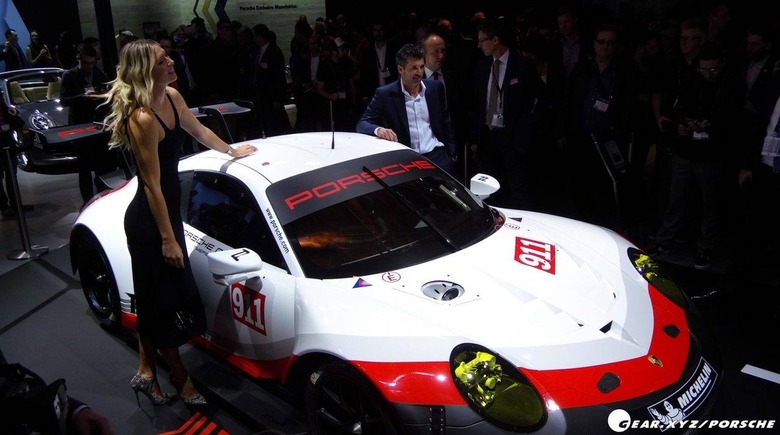 There's no mistaking the Porsche 911 RSR for what it is: a monstrously-powerful race car with which the German automaker hopes to make a significant splash at races like Le Mans next year. Bringing the potential for over 500 horsepower to the World Endurance Championship and IMSA WeatherTech Championship, the single-seater made its debut at the LA Auto Show 2016 this week. You certainly can't miss the bold black, red, and white color scheme.
It's not short on power to match the outrageous looks, either. Porsche says the 911 RSR should be good for 510 horsepower, depending on the restrictor fitted. The boxer engine is paired with a six-speed sequential constant-mesh gearbox controlled by steering wheel paddles.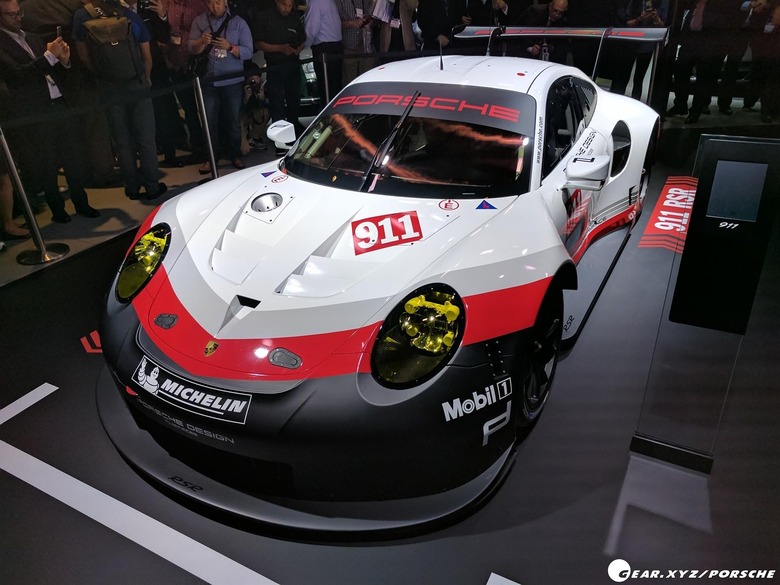 Still, some of Porsche's decisions for the 911 RSR might be enough to give fans minor palpitations. Most notably, the engine has moved forward of the rear axle, making the 911 RSR actually a mid-engined car. For those of the "a 911 simply must be rear-engined" school, it's bordering on blashphemy.
There's method behind the engineers' decision, of course. The 4.0-liter, six-cylinder boxer engine is naturally aspirated and particularly lightweight; that's given more flexibility in where it's positioned, and as a knock-on effect has allowed for a huge rear diffuser. Combined with the 919 Hybrid LMP1 car's rear wing, it boosts the downforce and aerodynamic slipperiness of the 911 RSR significantly.
Nothing like that works in isolation, naturally, and so there's also a completely new body structure and suspension. The chassis is combined aluminum steel, while the front axel gets double wishbone suspension with twin coil springs. At the rear, there's an integrated subframe with double wishbone axle and a similar twin coil spring setup.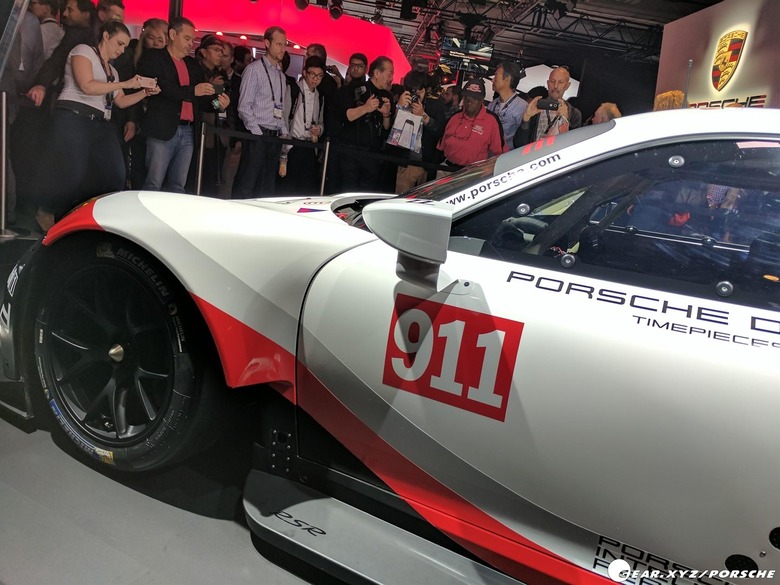 Atop it all is a carbon-fiber reinforced plastic (CFRP) body, with a removable roof hatch to access the cockpit. Braking is handled by two independent circuits, one for each of the axles. At the front, there are one-piece aluminum six-piston racing calipers with 390mm, internally-ventilated steel brake disks.
At the rear, there are one-piece aluminum four-piston racing calipers and 355mm, internally-ventilated steel brake disks. One-piece forged light alloy wheels get 12.5Jx18 offset Michelin slick 30/68-18 tires on the front, and 13Jx18 offset Michelin slick 31/71-18 at the back. There's a tire pressure monitoring system, too.
Indeed, there's an unusual amount of technology that overlaps with what you'd find on Porsche's road cars. The 911 RSR has radar-supported collision warning, for instance, which will be handy during night racing, as well as power wing mirrors with memory, and air conditioning. Something you won't find in road cars, though, is the black light illumination and integrated drink system, all controlled via fluorescent buttons on the dashboard.
Porsche expects the 911 RSR to get nineteen outings in the 2017 season overall, or the equivalent of more than 140 hours of racing. It'll make its first appearance in late January at Daytona, and then go on to tackle Le Mans and more.