The 30th Anniversary of Star Wars means a Gigantic Lego Millennium Falcon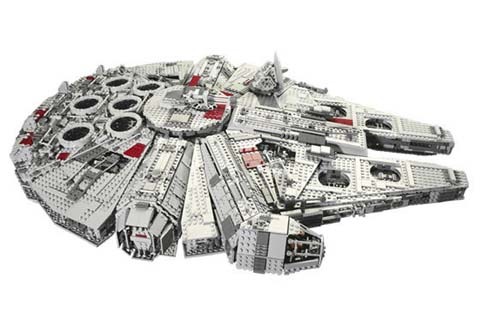 Need a way to show your pride for the 30th Anniversary of Star Wars? Lego has released the ultimate Millennium Falcon; it measures 33 inches long by 22 inches wide and 8 inches tall. It is the biggest LEGO set ever made at over 5,000 pieces.
I know you trekkies and the Star Wars fans have your spats, but I have to say I tend to have a thing for the Star Wars boys. You definitely will have to be a true Star Wars fan to want to put this puppy together. It does have all the little gadgets too; the satellite dish rotates and elevates, and the boarding ramp extends.
It also includes 5 dolls minifigures, Han Solo, Chewbacca, Obi-Wan Kenobi, Luke Skywalker, and of course Princess Leia (sorry no Slave Leia). However, before you go rushing out this set does come with a hefty price at $499.
Ginormous Lego Millenium Falcon Kicks the Most Ass Ever [via Crunch Gear]