The 2020 Defender is charmingly dog-friendly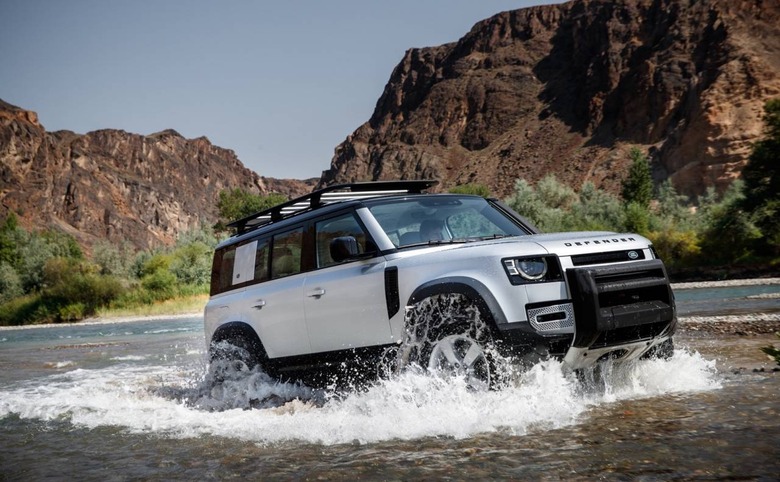 The new Land Rover Defender isn't short on ways to make the long-anticipated truck your own, as the freshly-launched build configurator demonstrates, but there's more to it than just creating your own Baja monster. Land Rover is targeting dog lovers with its official add-ons, with plenty of customization options to keep a pup happy (and your new $50k+ SUV vaguely clean inside).
Announced earlier this week, the 2020 Defender really is all about making the rebooted icon your own. Land Rover has more than a hundred accessories and add-ons available for buyers of the new truck, to the point that it could be easy to feel overwhelmed.

To cut through that choice-overload there are four preset Accessory Packs: Explorer, Adventure, Country, and Urban. Each consists of a number of accessories and the equipment, designed to fit together for a one-click upgrade that gives the Defender a little more personality. In the Explorer Pack, for example, you get the classic raised air intake and a side-mounted gear carrier.
The Adventure Pack, meanwhile, throws in the portable rinse system and the integrated air compressor. Although you could piece together each of these looks individually, the four packs offer a shortcut.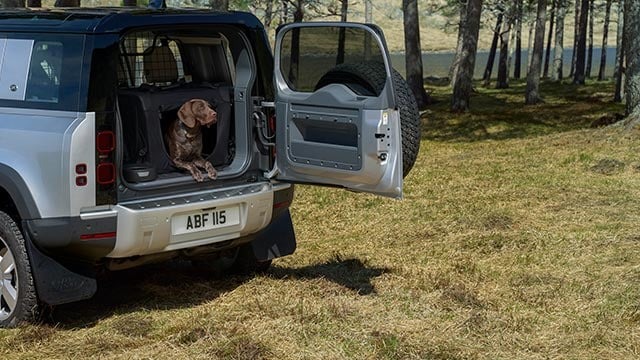 There is, however, another less obvious pack, targeted at dog owners. Among the 2020 Discovery's official accessories is the Pet Care and Access Pack, which for just over $1,800 (before fitting costs) includes a number of things great for animal parents. It includes the Discovery's pet access ramp, a two-part folding ramp with aluminum side panels and a grip-molded plastic center section. It can handle animals up to 187 pounds in weight.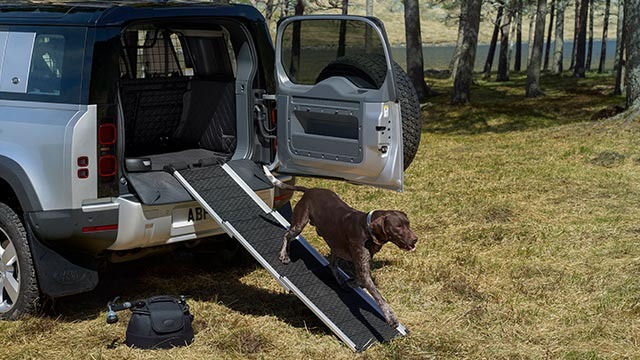 Once they're inside, your pets can sit on the quilted cargo space liner, a tailored liner that protects the carpeted areas of the Discovery's trunk, including the seat-backs. It has a rubber base and is made of soft, quilted fabric, and there's a detachable bumper protector too.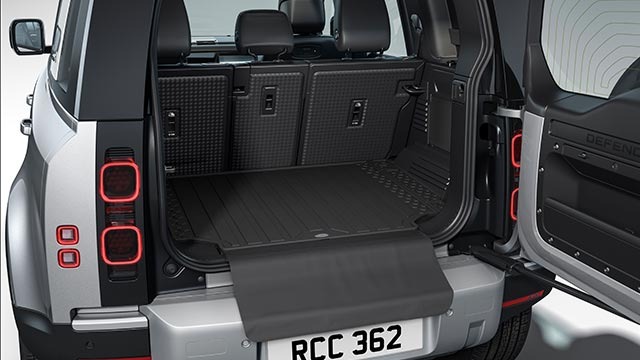 The cargo space partition is also included in the pack, separating the trunk from the rest of the cabin, as is the portable rinse system. That has a hand-pump to pressurize a water tank, and can be used to spray down a muddy dog (or alternatively outdoor activity equipment) before you let it into the SUV.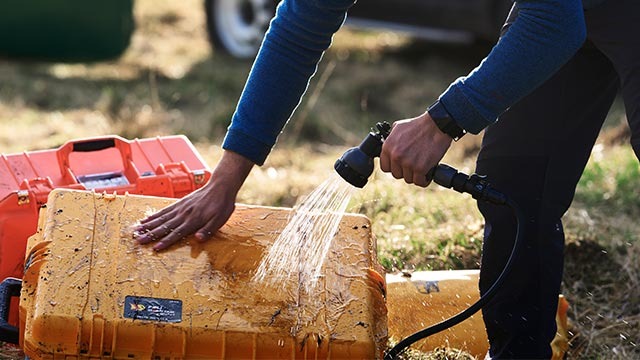 Land Rover will offer the individual parts of the pack separately, as well as some other options. There's a $438 foldable pet carrier, for example, with reinforced carry handles and a side pocket, as well as a $70 spill-resistant water bowl with an anti-slip rubber base and retention strap.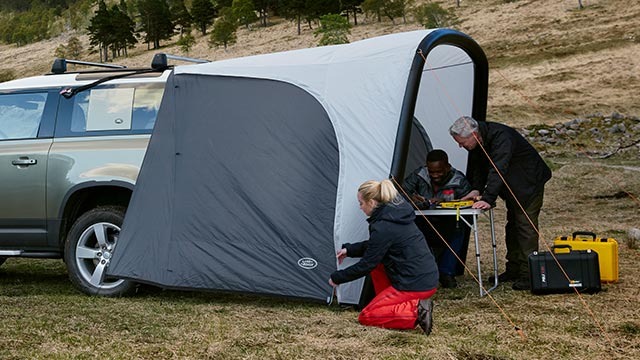 If you really want to go the whole hog, there's a $760 Inflatable Waterproof Awning that can be pumped up either manually or – if you have it fitted – via the Discover's built-in air compressor. That attaches to the side or rear of the SUV, and offers space away from the wind or rain for you and your pooch. That might be overkill for most Discovery buyers, but given how popular the truck is likely to be with pet owners, we wouldn't be surprised to see a few dogs sheltering there when the new Land Rover arrives in the US from next year.