We are excited around here at the though of the new 2020 Corvette C8 Stingray with its V8 in the middle of the car. Chevrolet has now announced the very first hardtop convertible version of the Corvette. Droptop Corvettes have been part of the Corvette lineage going back to the very first Vette in 1953, but they have been soft top offerings.
Chevy says that the 2020 Corvette is the first hardtop and mid-engine convertible in Corvette history. Chevy brags that the 2020 Stingray convertible offers the same storage as the coupe, even with the top down. It's also priced only $7,500 more than the entry 1LT Stingray.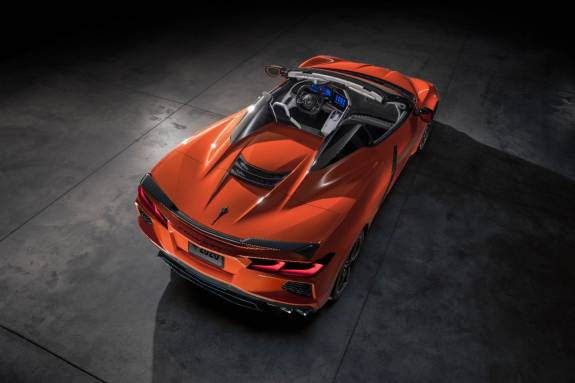 The convertible C8 was engineered first and foremost as a convertible, says Chevy. The droptop keeps the tunnel-dominant structure and the use of high-integrity die-cast parts found in the coupe. The 2020 Stingray hardtop convertible stores the hardtop seamlessly into the body of the car. The C8 convertible can still store two sets of golf clubs in the trunk with the top down.
The droptop also maintains the front storage compartment of the coupe. Chevy says that the hardtop brings a quieter cabin, increased security, and a cleaner look compared to the soft top designs of the past. The C8 convertible has nacelles on the tonneau cover that help to reduce air circulation into the cabin and provide an "exotic profile."
The tonneau cover also has a rear power-adjustable window and a vent for mid-engine cooling. The top can be activated at speeds up to 30 mph and can retract in 16 seconds. It has six electric motors, a first for the Vette. Using electric motors rather than hydraulic systems increases reliability. The roof is body-colored as standard with carbon flash metallic-painted nacelles and roof as an option. The convertible comes with the same 6.2L LT2 V8 as the entry-level coupe.