The 2018 Dodge Durango SRT has 475 HP (because HEMI is where the heart is)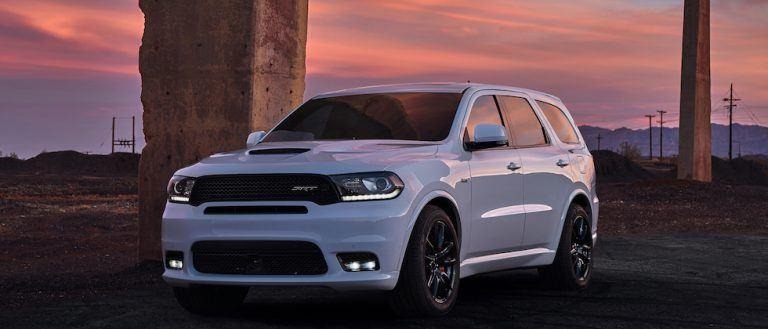 The ability to do burnouts in your three-row SUV isn't usually high on the priorities list of most buyers, but then the 2018 Dodge Durango SRT is no ordinary family car. Packing a 392 cubic inch HEMI V8 under the vent-punctured hood – that's 6.4-liters – the SRT tuned Durango musters 475 horsepower and 470 lb-ft. of torque. As well as giving the SUV the ability to turn tires into smoke at the slightest provocation, it's also enough for a 4.4 second 0-60 mph time.
In fact, Dodge went to the effort of getting the 2018 Durango SRT certified by the National Hot Rod Association, which found it could do a quarter mile in 12.9 seconds. Since you probably want to stop at the end of that, too, Dodge has upgraded the brakes. You now get beefier Brembos all-round, including six-piston calipers and 15-inch vented rotors at the front, and four-piston calipers and 13.8-inch vented rotors at the rear. The 20-inch wheels are clad in either Pirelli 295/45ZR20 Scorpion Verde all-season tires or Pirelli P Zero three-season tires.
Making a ridiculously fast SUV that can still haul trailers and such isn't just a matter of dumping a big engine in there, mind. For a start, Dodge had to address cooling, with a new cold-air duct dropping engine temperature by 18 degrees Fahrenheit versus the regular system. The eight-speed auto transmission has launch control and a Track Mode with 160 ms shifts, but there's also a Tow mode with trailer-sway control, and a Snow mode.
For most, though, it's the sporting performance which will be of most interest. In Sport mode, for instance, the suspension damping gets stiffer and the steering meatier; shift speed increases by almost a quarter in the first four gears, while the ESC loosens up its attitude to yaw. Switch up to Track, meanwhile, and the suspension gets even harder, while the ESC allows maximum yaw.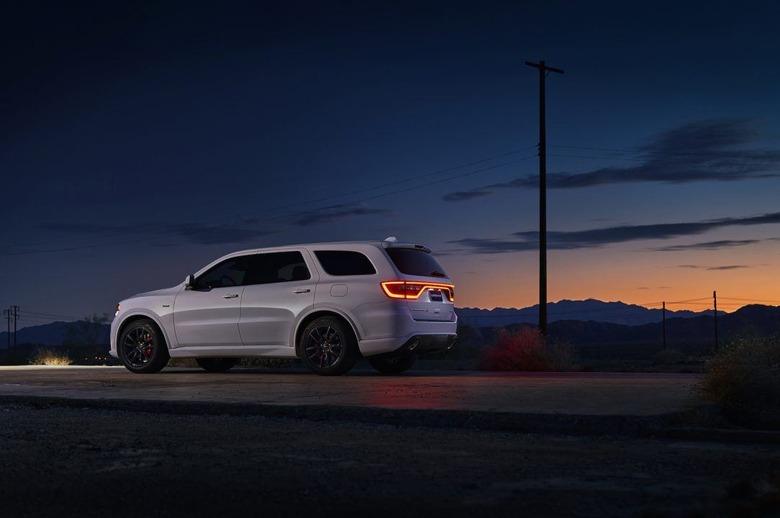 All-wheel drive is standard, as is independent front suspension with coil springs, specially-tuned Bilstein adaptive damping, and an 18-percent stiffer rear sway bar for better performance in corners. At the rear, multi-link suspension gets coil springs, Bilstein ADS, and a stabilizer bar, among other things. A custom exhaust system replaces the rear mufflers with resonators, cranking up the overall noise and improving the tone.
Outside, there's a more aggressive body kit and SRT-exclusive mesh to the grilles. Integrated wheel flares and body-color side rocker panels are picked out with "392" badging, while at the rear there are 4-inch dual round exhaust tips. Various sensors support the Durango SRT's front collision warning/mitigation system, adaptive cruise control, blind-spot monitoring, and other features.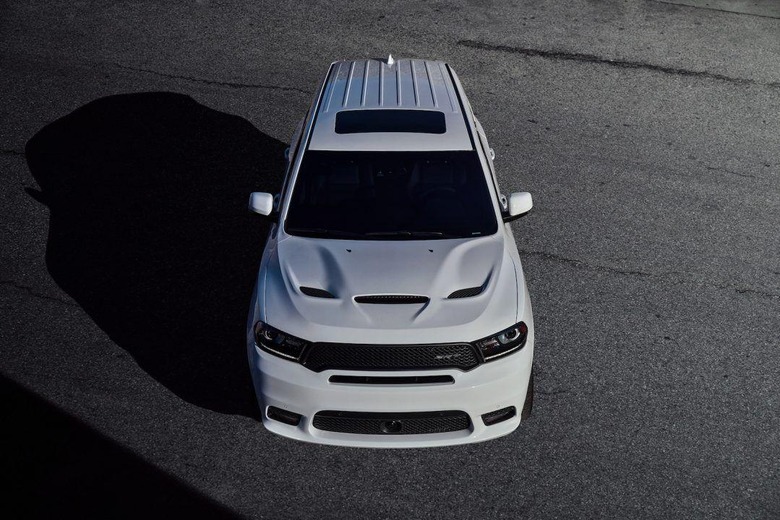 On the inside, the dashboard is hand-finished and there's an SRT flat-bottom wheel with paddle shifters. The rotary control in the regular Durango for the transmission is replaced with an electronic T-shifter, while the 7-inch driver's display gets a 180 mph speedometer. In the center stack, there's an 8.4-inch Uconnect infotainment touchscreen, which can show track-related metrics; it's paired with a standard Beats Audio system with nine speakers, a subwoofer, and 506W amp to power it all. Various finishes will be available, including suede on the headlining and other cabin areas, and, later on, real carbon fiber trim.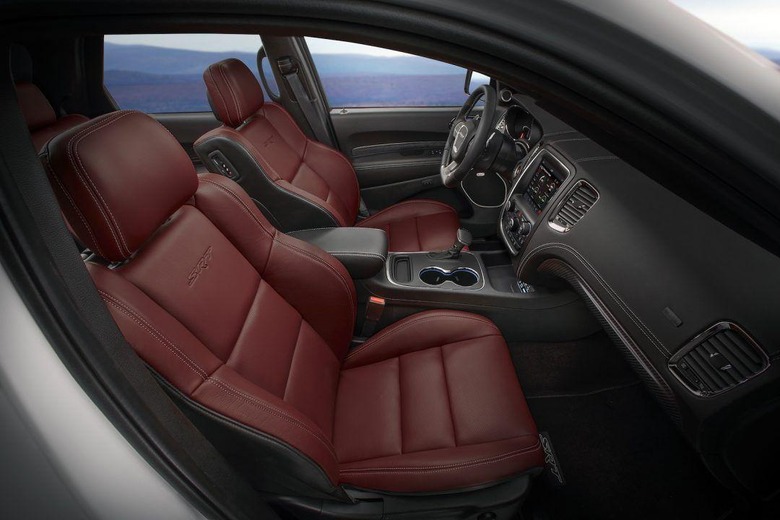 The seats are heated and ventilated in the front, with the second-row captain's chairs getting heating too. Nappa leather with suede inserts and SRT logos in silver stitching are standard, though red leather will be an option, complete with embossed SRT logos.
Dodge is yet to confirm pricing for the 2018 Durango SRT, and we'll have to wait until Q4 2017 to find it in showrooms. Buyers will get a full-day session at the Bob Bondurant School of High Performance Driving, meanwhile, just to make sure they know what they're doing behind the wheel.