Thanko Soundproof Keyboard Cover Silences The Keystroke, Covers Your Hands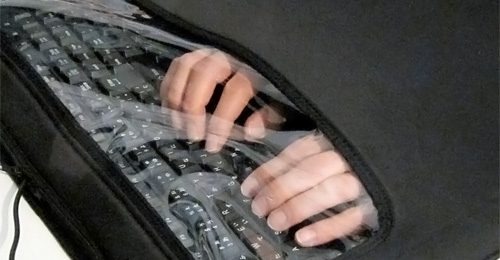 Depending on your situation, you may not want everyone around you hearing you type. Or, maybe you just don't like the sound of keys being pressed repeatedly, all day long. Thankfully, Thanko has you covered (pun intended). They've just shown off their brand new Soundproof keyboard cover, and instead of using some kind of new technology to silence the keystroke, they've just made you wear something over your hands.
According to Thanko, this very unique design makes sure that the sounds of the click on "older" keyboards isn't heard. But, there's enough room inside to make sure that touch-typists can go about their business without being hindered by the cover. And, if you're someone who needs to look at the keyboard, there's a nice viewport at the top of the cover, giving you ample room to see what's going on inside the cover.
The cover costs about $36, or 2,980 yen. It's available for purchase from Geek Stuff 4 U, if you really think you have to have it.
[via Akihabara News]