TextBlade promises desktop performance in portable keyboard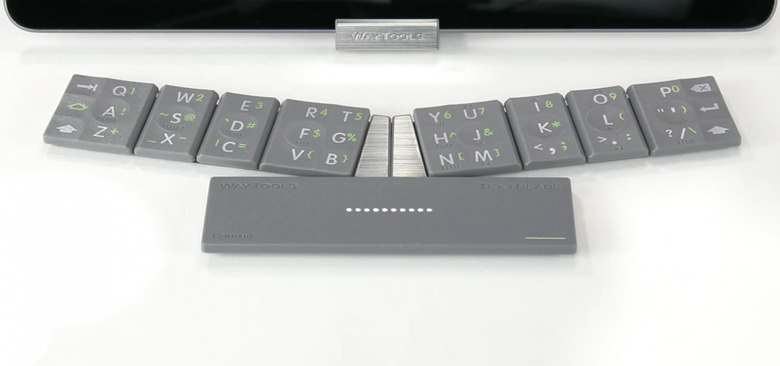 Your smartphone or tablet may be as powerful as a computer, but is the form factor as useful as one? Without a dedicated hardware keyboard, many productivity apps are left to compromise, or leave you wanting. Hacking out a longer email might even be more trouble than it's worth, and carrying around a keyboard is not easy for most. A new device promises to make toting around a keyboard much easier, and may have you leaving your laptop at home.
TextBlade brings actual, physical keyboard utility on the go, and folds up into the smallest package we've ever seen for a full qwerty model. Rather than a full-fledged keyboard with individual keys, TextBlade takes a different approach. You'll get eight larger buttons which the company describes as "MultiLayer".
According to the company behind TextBlade, , WayTools, their precision keys "outperform a MacBook Pro", and offer 2mm travel with a larger key profile. The low profile is easier on your wrist, too, they claim.
TextBlade's size is also impressive. It's half as thick as an iPhone 6, and affixes itself magnetically when you unfold it from its case. The lithium battery is built into the space bar, and last a full month between charges (which is done via microUSB).
Sounds great, but we'd need to put it to the test before we're ready to applaud the tech WayTools is bragging up. If you're interested, TextBlade is available for pre-order at $99, and ships next month.
Source: WayTools