Texas Instruments Unveils New DLP Pico Technology at CES 2011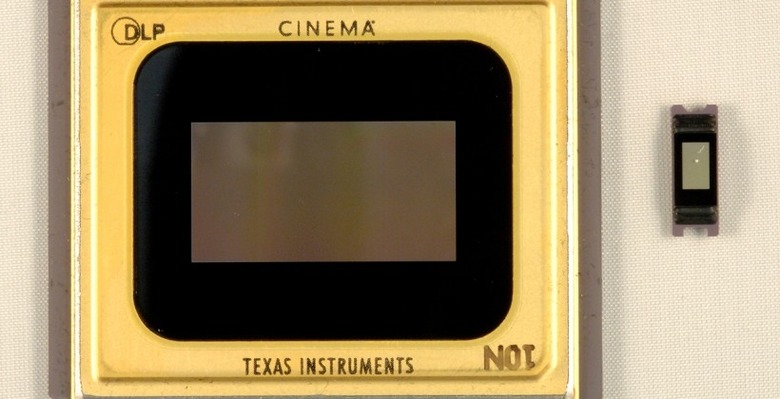 Texas Instruments has announced the company's brand new DLP Pico HD chipset, which is meant to usher in a new era of high definition entertainment. The chipset makes it possible to showcase video at WXGA resolution, no matter what the surface area is where the video is being displayed. Texas Instruments isn't announcing the new chipset on their own, though — they've partnered with other companies to make it a more official unveiling, as well as to show off the adoption.
These other companies, who have partnered with TI, include the likes of Dell, Acer, ViewSonic, and Optoma. LG is included as well. All of these companies will be showing off Texas Instruments' new DLP Pico technology in different projectors. Texas Instruments will be on hand at CES 2011 as well, showcasing the new chipset. Check out the full press release below for more information.
Press Release
Texas Instruments Announces DLP Pico™ HD Chipset:

Projecting The Future of High Definition

Mobile Entertainment And Business Needs Today

Acer, Dell, LG, Optoma, and ViewSonic first to show DLP Pico HD products at CES 2011

Las Vegas – January 5, 2011, 12 p.m. PDT: Today at the International Consumer Electronics Show (CES), Texas Instruments (TI) (NYSE:TXN) unveiled a new era for portable High Definition (HD) entertainment with the new DLP Pico™ HD chipset. Born out of years of research, the latest chip to feature award-winning DLP Pico technology showcases stunning HD (WXGA) video and images on nearly any surface, with more brightness and greater energy efficiency than ever before. The tiny HD chip is the latest introduction of the broad DLP Pico family that powers today's most exciting and unique imaging products.

"The new DLP Pico HD chipset provides the ultimate combination of the best image quality in the smallest size, and is poised to revolutionize the worlds of consumer entertainment and mobile enterprise solutions," said Frank Moizio, Manager, DLP Pico Projection. "Never again will mobile professionals be caught without the ability to share their vision, as this new chipset enables the brightest projection products that can be easily stored and carried in a laptop bag. Even more exciting is that it opens tremendous opportunities in the world of entertainment – from greater than 100-inch HD video from the palm of your hand – to a wide variety of new entertainment devices that allow consumers to enjoy big picture HD experiences in a snap, anywhere, anytime."

Multiple manufacturers and brands will be at CES showing products with DLP Pico technology inside. Among them are Acer, Dell, LG, Optoma, and ViewSonic, who will be showing the first products based on the new HD chipset.

Acer: "We are pleased to have the Acer brand associated with the best possible image quality for tiny projection products," said Chris White, Senior Director, Acer America Corporation, "and are thoroughly excited about being able to achieve the brightest LED DLP Pico projection product in the market."

LG: "It is exciting to work together with DLP and their new HD chipset," said YE Kim, Projector Business Team Leader, LG Electronics. "With our new HW300T multimedia pocket projector with built-in TV tuner, we expect to maintain our leadership position through improvements in resolution and brightness, and a form factor that will best serve both the portable business and consumer entertainment environments."

Optoma: "As a leading supplier of DLP-enabled products, Optoma is pleased to work with TI to create the ultimate image quality in small CE Pico products, for a state-of-the-art experience with tools for both portable entertainment, as well as personal business productivity," said Maggie Lu, Executive Vice President, Optoma Americas.

ViewSonic: "We are excited to offer this truly unique HD product powered by the latest DLP Pico chipset," said Jeff Volpe, Vice President and General Manager, ViewSonic Americas. "Due to its compact size (easily fits into a notebook bag) and high brightness, we believe our PLED-W200 will be the ideal pocket projector for presenters on the go. Moreover, this product also serves as a high quality mobile entertainment product, so whether the user is viewing sporting events, TV, pictures, movies, or giving a presentation, it's all possible with our PLED-W200 DLP Pico projector."

The latest DLP Pico chip and its siblings can be found at the heart of a growing number of all-new product types. To experience firsthand the full breadth of new and upcoming products equipped with Texas Instruments DLP Pico technology, along with other DLP innovations, be sure to check us out at the following CES 2011 events, and visit our partners' exhibits throughout the show floor:

Pepcom's Digital Experience! – Wed. January 5th, 7pm PT

(Caesars Palace)

DLP Pico demo suite – January 6th – January 7th

To access the latest news, images, and other digital content during CES about DLP Pico and other products from Texas Instruments, check out our online press kit at www.DLP.com/CES2011. You can also follow DLP on Twitter at @TI_DLP, and view videos on DLP's YouTube page, www.YouTube.com/DLPTechnology.