Tetris 99 is getting a physical release later this year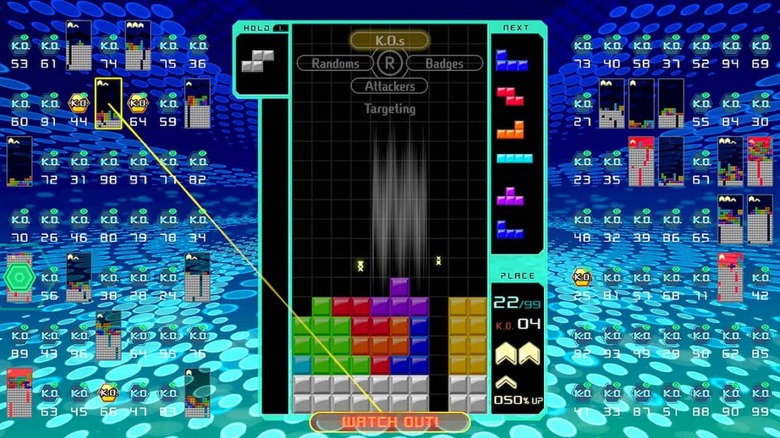 On top of everything else that Nintendo announced today, the company also confirmed that Tetris 99 will be getting a physical, retail release later on this year. Tetris 99 was launched last year as something of a carrot-on-a-stick for Nintendo Switch users – though the game is free-to-play, you need to be a Switch Online subscriber to play it. If you're wondering how Nintendo will handle releasing a physical version of a free-to-play game, you definitely aren't alone.
Nintendo has revealed that it will offer Tetris 99 at retail for $29.99. At first blush, that price seems pretty steep, but Nintendo is also including a 12-month subscription to Switch Online with each purchase. In addition, the physical edition of Tetris 99 will come with "all the latest DLC," which seems to suggest that buyers will get the Big Block season pass as well.
Now you can own a physical version of #Tetris99 with all of the latest DLC AND a 1-year #NintendoSwitchOnline subscription for $29.99. Grab your copy in stores and start playing on 9/6. pic.twitter.com/onW89TNSuF

— Nintendo Versus (@NintendoVS) July 16, 2019
Launched earlier this year, the first DLC in the Big Block season pass added Marathon mode and the ability to play offline against computer opponents. Essentially, that DLC allowed non-Switch Online subscribers to play Tetris 99, albeit on their own and not against other human players. Later this year, we'll see offline multiplayer added in Big Block DLC 2, but we're still waiting on more details on that front.
With everything added up, the physical version of Tetris 99 seems like a pretty good deal. On its own, a year of Switch Online runs $20, while the Big Block season pass costs another $10. So, with the physical version, you're basically getting the game on a cartridge for free – assuming, of course, that you would have purchased a year of Switch Online and the DLC with the digital version anyway.
So, if you're the type of person who likes having their game collections on physical media, then it sounds like this release will be perfect for you. We'll see Tetris 99 launch at retail on September 9th, and in the meantime, we'll keep an eye out for more details about that upcoming second DLC for the Big Block pass.