Tesla's Gigafactory is so intriguing, press are committing battery to get photos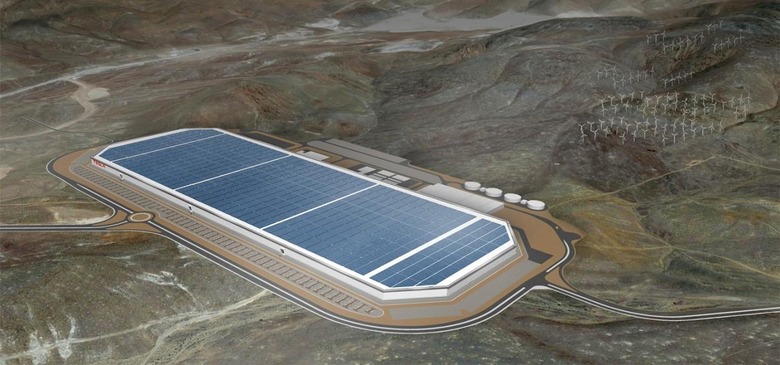 Tesla has accused two journalists of breaking into its work-in-progress Gigafactory and assaulting security guards there, allegedly trying to run down staff in an attempt to escape. The incident, which took place last Friday at 11:50am, began when two people were spotted trespassing on Tesla property and taking photos, the electric car company says, but escalated once "safety managers" called the local Sheriff's Department.
"They refused to provide their names, despite the Reno Gazette Journal ("RGJ") ID credentials hanging from their pockets," Tesla says of the encounter. "They also denied that they were trespassing even though they had climbed through a fence designated with "private property" signs."
When asked to remain on-site until law enforcement could arrive, the two men allegedly entered a Jeep bearing the RGJ logo, and reversed into a Tesla employee attempting to record the vehicle's license plate.
They then struck the ATV which Tesla safety managers had arrived on, and drove into one of the staff when he climbed down from the vehicle.
In a report published last Friday, the Reno Gazette Journal named one of the men as Andy Barron, a photographer for the newspaper. Barron, according to Storey County Sheriff Gerald Antinoro, was driving the company's Jeep.
"We take this situation very seriously and it is under investigation at this time," RGJ publisher John Maher said last week in a statement.
Barron was charged with battery with a deadly weapon. The second man has not been identified.
As for Tesla, it says it will be taking a hard line on "repeated" attempts to get behind-the-scenes shots on the massive new battery factory.
"We appreciate the interest in the Gigafactory," the company said today, "but the repeated acts of trespassing, including by those working for the RGJ, is illegal, dangerous and needs to stop."
SOURCE Tesla Motors
MORE RGJ