Tesla updates web browser for cars with Tegra-3 MCU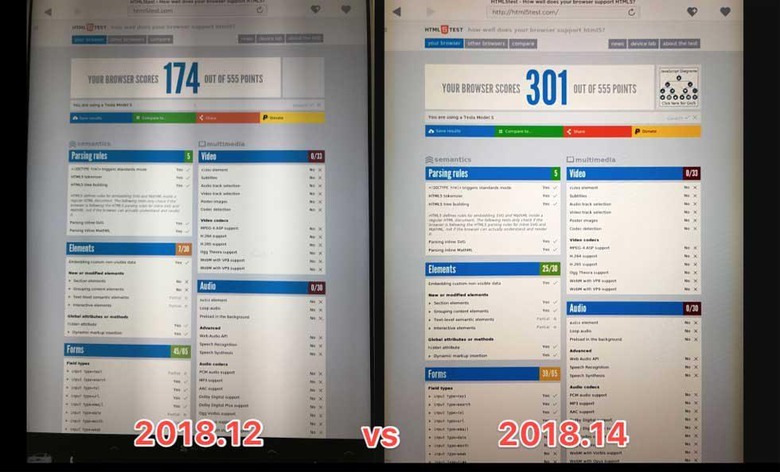 Tesla is well known for upgrading its cars with new features and capabilities via OTA updates that go out regularly. The latest update to roll out isn't a better self-driving feature or an update to make the car drive further per charge. This update is for the web browser of the older Tesla rides with the NVIDIA Tegra-3 MCU inside.
The image you see above is the results of a browser test from a Tesla owner showing the result in v8.1(2018.12) where the browser earned an HTML5 test result of 175 points out of 555 possible. The other half of the images is a test for v8.1(2018.14) and that test shows the browser earning 301 points out of 555.
The biggest gains in the test were made in the Elements section with the older test getting 7/30 and the newer test getting 25/30 in that section. Another owner says that before the update, his browser in the car average 300-500 kbps.
After the update to the latest version, the same browser averaged 5+ Mbps. The same owner also notes that the update fixed some issues he saw previously with streaming podcasts. It's nice that Tesla is still updating its older cars despite having new x86_64 MCUs on the market now.
Elon Musk has said in the past that owners will be able to retrofit older Model S and Model X vehicles with the new and faster MCUs. However, the update improves performance to the point that many may fail to see any benefit in that update.
SOURCE: Teslarati