Tesla unveils six Supercharger stations in California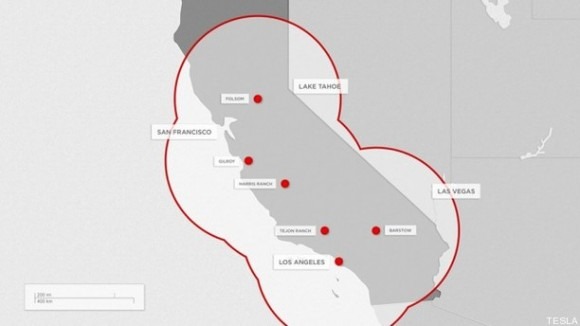 Today, Tesla opened six Supercharger stations in launch of the Supercharger network. The stations seem to be located in such a way that EV owners can travel between LA, San Francisco, Vegas, and Lake Tahoe. Says the tweet from @TeslaMotors: "Charge for free in Model S on your next road trip btwn SF and LA, Tahoe & Vegas."
The six Supercharger stations are located in Folsom, Harris Ranch, Gilroy, Barstow, Tejon Ranch, and Los Angeles. Tesla Motors plans to eventually have these stations scattered throughout the US in such a way that EV owners can travel anywhere without concerns about staying charged up. According to the official website, the network will expand to 100 stations in 2015.
So, how long does it take? With a name like Supercharger, one imagines a relatively fast speed, which seems to be an oxymoron when it comes to juicing up via electricity. According to TeslaMotors.com, a 30 minute charge will yield 150 miles of range. This is in comparison to 31 miles when charging via a high-power wall connector, and 16 minutes via a 240 outlet. Not as fast as pumping a tank of gas, but certainly cheaper.
How does it work? According to the Supercharger website, "it's like an adrenaline shot for your battery." The cable from a Supercharger connects to the plug in your car much the same way a gas hose is used to fill a tank. The charger delivers 4.5x more electricity than Twin Chargers. The Tesla Model S car starts at $49,900.
[via aolautos]