Tesla Solar Roof V3 is ready for scale as Elon Musk reveals "Solarglass"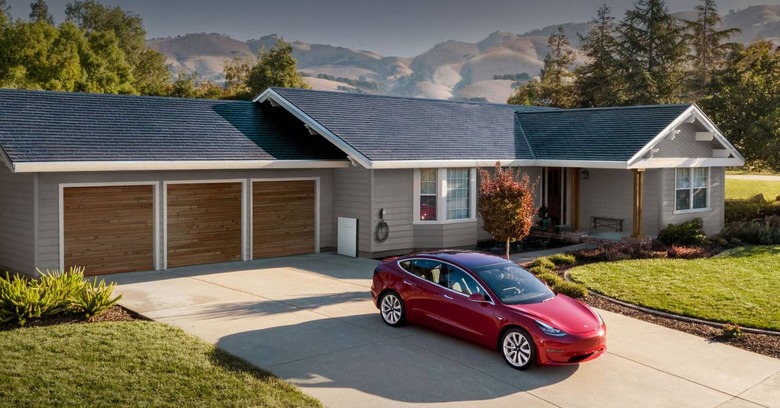 Tesla's V3 Solar Roof is finally ready for primetime, solar panels that look like regular roofing tiles and the latest step in Elon Musk's war on fossil fuels. The long-anticipated solar tiles take a different approach to most solar panel installations, being a true roof in themselves rather than requiring separate panels being mounted on an existing roof.
Tesla and Solar City first started talking about the Solar Roof back in late 2016, positioning it as a solution for those who might want to switch to solar panel but for whom the aesthetics put them off. Each shingle, the company explained, was a solar cell in its own right, though from street level they look like regular shingles. However it's taken until this third generation before it's quite ready for mass installation.
"This is the first version that we think should be ramped up at scale," Elon Musk, Tesla CEO, said today, referring to the new tiles as "Solarglass," Version two, in contrast, was simply too expensive.
"In the future, it will be odd for roofs to be dormant, or dead, or not gather energy," Musk predicted. "You have to ask, what is the future that you want? I think the answer to that, for most of us, is you look around the neighborhood and the roofs are doing something, they're gathering energy, and they're very beautiful."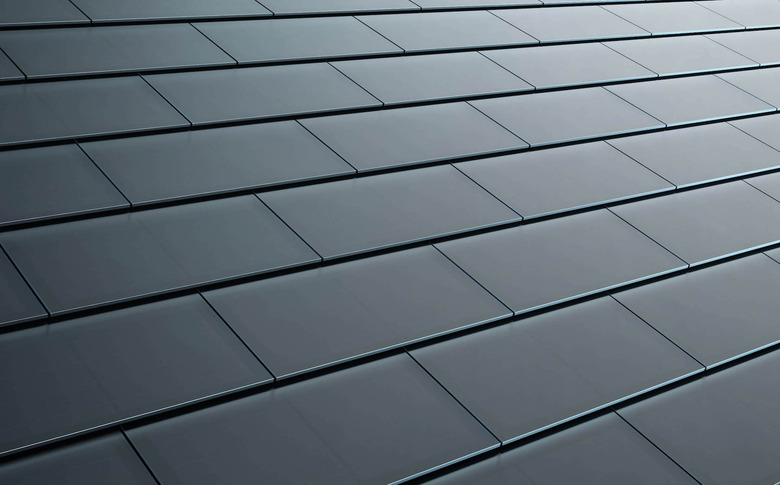 Each of the tiles will be made of tempered glass, and are designed to be three times stronger than standard roofing tiles. There'll be different finishes, too, at least eventually. Right now, Tesla is only listing a single textured black glass style; Musk says there'll be new styles hopefully added every 6-9 months, as it gets the aesthetic of each right. Tesla will actually have two types of each tile: both a solar tile and a non-solar tile, which look identical.
That will allow homeowners to choose how much solar capacity they want from their roof. The system is designed to work with the Tesla Powerwall battery, storing electricity for nighttime use as well as providing a backup in the case of a power outage.
Based on a 2,000 square-foot roof, with 10 kW of solar power, Tesla says the Solar Roof would cost $33,950 including a $8,550 federal tax credit that's available until the end of the year. Tesla, somewhat confusingly, quote $7 per square-foot or $1.99 a watt overall; apparently that's just for the non-solar aspect. In fact, total cost in this example would be $16.98 a square foot if you qualify for the incentive, or $21.25 a square foot based on the full $42,500 price of the roof before that incentive. In contrast, a "premium" concrete tile roof for the same home would be $23,840, plus $19,950 for the separate solar panels, Tesla suggests, though that's likely to vary considerably by geography, home, installer, and roof type.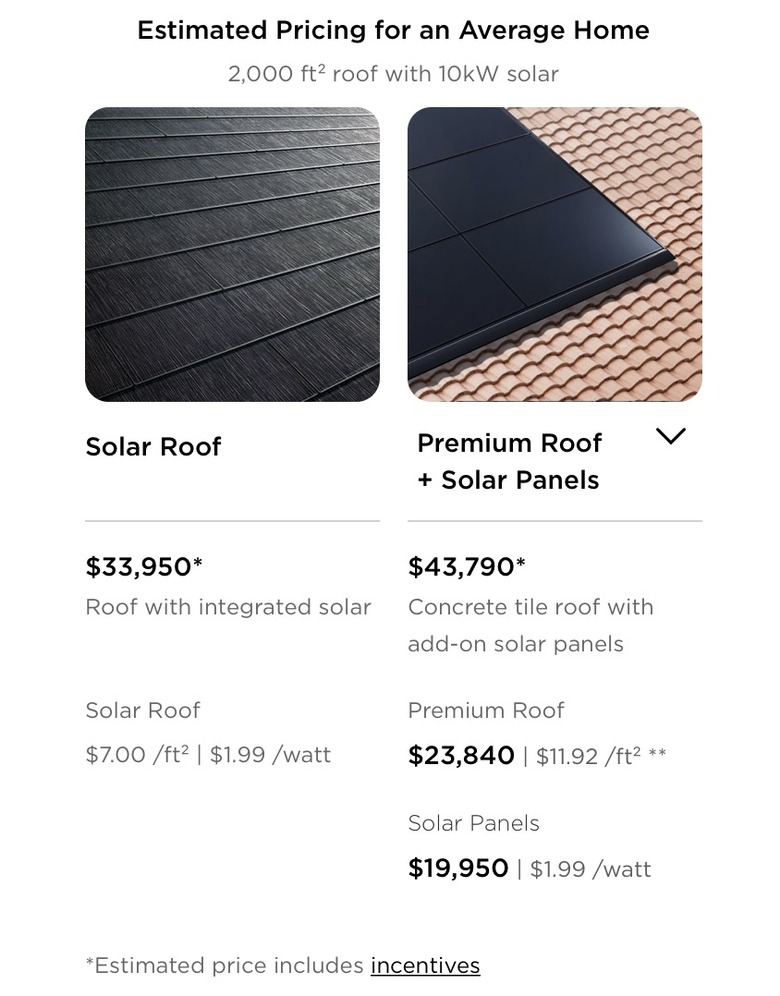 What the Solar Roof isn't, Musk points out, is something for anybody with a recent roof on their house. "It has the cost of roofing the house, in addition to the cost of solar cells," the CEO points out. "However, we've been able to achieve, with version three, a price point that is less than what the average roof costs, plus solar panels."
There'll be a 25 year warranty for the Solar Roof, Tesla says, though Musk admits there may be some fringe cases where it's not necessarily the cheapest. "It's not going to be correct everywhere," he conceded. "There are going to be times when there is a very cheap roof, or very cheap solar ... but I think maybe 80-percent of time the Solar Roof will be the best. And it will look the best, and be the longest-lasting."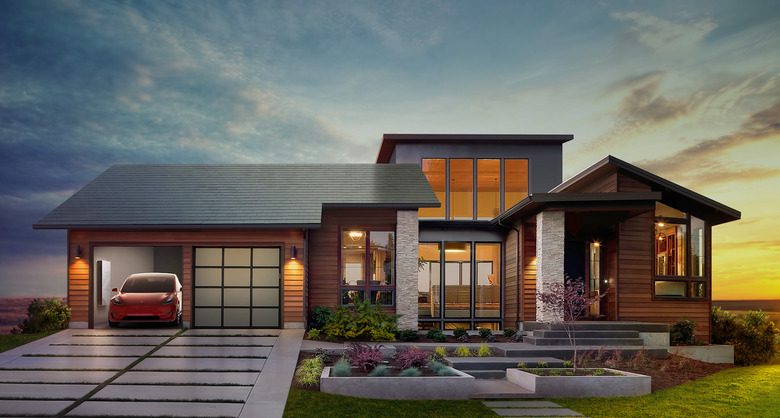 Initially, Tesla plans to do all of the Solar Roof installation itself. However down the line it expects to offer the tiles to third-party installers.
"This is something that we intend to open up to roofing contractors in general," Musk said. "Unlike vehicle sales which only go through Tesla stores or online, because we don't want to get trapped in franchise law, and there's a lot of complexities in automotive distribution that would break precedent there ... for the Tesla solar glass roof it's a different situation."
Compared to the first and second generation of the tiles, Tesla says it has made a number of changes with this Solar Roof V3 product. The tiles themselves are larger now, with greater power density. However there's been a more than 50-percent reduction in parts and assemblies in each tile, and the technology itself has evolved to make it more scalable. Versus a traditional solar panel – which doesn't have the requirement to be so aesthetically-pleasing – Musk says the Solarglass is perhaps 10-percent less efficient, but since it's easier to add further solar tiles any shortfall can be balanced out.
Simplicity of installation, too, has been addressed. Previously, Tesla says, some of the trimming and other work to the roof involved effectively custom parts, such as the flashing. That's been made more streamlined. Eventually, Musk says, the goal is to make fitting a Solar Roof faster than comp shingle. "We're coming for you, comp shingle!" Musk joked.
Sales of the Solar Roof are open now, with reservations available through Tesla's site. "We're doing installations, ramping up as fast as we can, in the next few weeks," Musk says. "Actually some are underway now. Our goal is to get north of a thousand roofs a week as early as possible." That, Musk predicts, could be only a few months out.
[Updated to correct square-footage price]