Tesla solar roof tile defeats hail 'cannonball' in new slow-motion video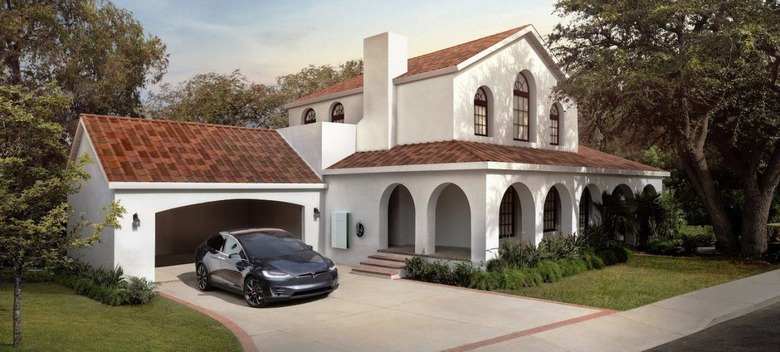 Since being announced, some skeptics have expressed concern over the durability of Tesla's solar roof tiles. Elon Musk himself addressed those worries during the product's unveiling, but some remain skeptical, wondering what would happen if something big and heavy — let's say a big ball of ice — were to crash down onto the tiles. Tesla has once again addressed that concern, this time in the form of a slow-motion video.
The video was posted by Musk on his Instagram today following the launch of the solar roof preorders. The video (below) shows a ball of ice — size unclear, though it is called a 'cannonball' — ramming into a solar tile at a great enough speed to shatter it...the ice, that is. While the ice ball explodes into a billion bits of smaller ice, the roof tile appears completely unfazed.
The durability is thanks to Tesla solar glass, according to the website, which shows an ice ball being slammed into the solar roof tile, as well as two traditional tiles. According to the website, we're seeing the highest FM 4473 hail rating — that is, it's a 2-inch diameter ball of ice flying at 110mph. The video was recorded at 2500fps. You can see that demonstration video here.
If something does manage to damage one of the roof tiles, though, Tesla says it will replace it as part of its 'infinite tile warranty,' which means that the roof is covered for the lifetime of the house itself 'or infinity, whichever comes first.' If you're interested in getting the roof for your house, Tesla has begun accepting preorders for the textured and smooth black designs, with the other two design options going live later on this year. Cost, of course, depends on the size of your roof, among other things.
SOURCE: Instagram