Tesla slips Christmas Easter egg into 2017.50.2 update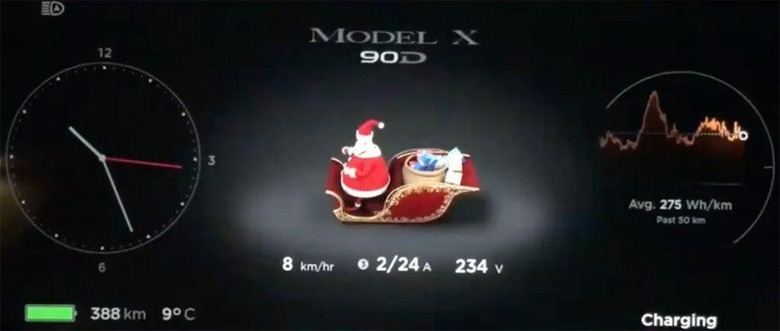 If you own a Tesla and are on the latest software for the vehicle, you have a nice little Christmas Easter egg called "Santa Mode" just in time for the holidays to enjoy. The new update is 2017.50.2 that adds in the Easter egg and it fits right in along with all the other cool Easter eggs that Tesla has offered up over the year.
The Santa Mode Easter egg gives owners the holiday tune "Run run Rudolph" by Chuck Berry that plays over the audio system and an image of Santa's sleigh in the center console instead of the Tesla car. When you start driving, Santa's sleigh replaces your car in the center console with what appears to be warnings for things around the car popping up around the sleigh in the center console.
As you drive and pass cars on the road, the vehicles are replaced with images of reindeer. The Easter Egg can be activated on the common Easter egg screen along with all the others that are available. It can apparently be activated by saying "ho ho ho" as a voice command.
There is also an Easter egg within an Easter egg and if you use the voice command "ho ho ho not funny." You get the classic "Grandma Got Run Over by a Reindeer" which happens to be my favorite Christmas song and it is funny.
In other Tesla related news, Elon Musk showed off an image of his Tesla Roadster that will be launched atop a SpaceX rocket into Mars orbit. The interesting part about cramming that Roadster into the Falcon Heavy rocket is that SpaceX has admitted there is a significant chance of failure for the first launch meaning loss of Elon Musk's Roadster.
SOURCE: Electrek