Tesla Says Merry Christmas With The Model X, Lights, And Music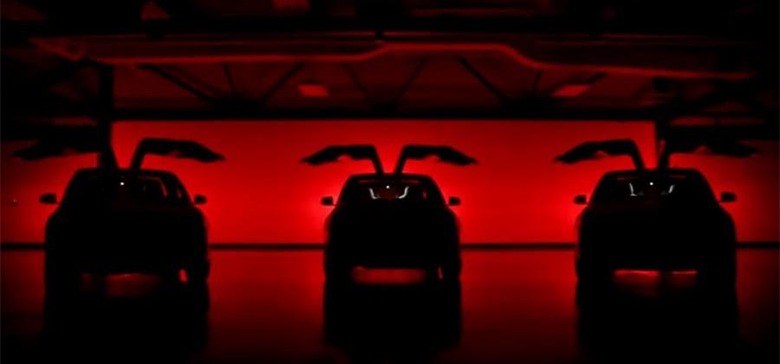 Anyone with kids knows that today is Christmas Eve; if you don't have kids, it might not be as rambunctious tonight as it is for others but you still know Christmas is here. In the lead up to Christmas Day, we are feeling the holidays and so is Tesla. Tesla Motors has published a new Christmas video that uses a trio of its new Model X electric SUVs.
The SUVs aren't driving in a snowy winter wonderland or anything, they are sitting on a sound stage. The most metal of Christmas music plays while the bright lights and blinkers of the Model X SUVs flash in tune to the music.
Tesla even gets the fancy gull-wing doors on the back of the Model X into the action. Those doors remain the coolest part of the entire car in our book and rise vertically to make getting in and out a snap, even in a tight parking spot.
If you missed the previous details on the Model X SUV, deliveries will kick off in early 2016 for the top of the line version. There are three versions to choose from including the 70D base with 220-mile range, 90D with 257 mile range, and the P90D with 250 mile range and the ability to reach 60MPH in 3.8 seconds. Check out the Christmas video from Tesla below, and Merry Christmas!