Tesla Roadster details coming next week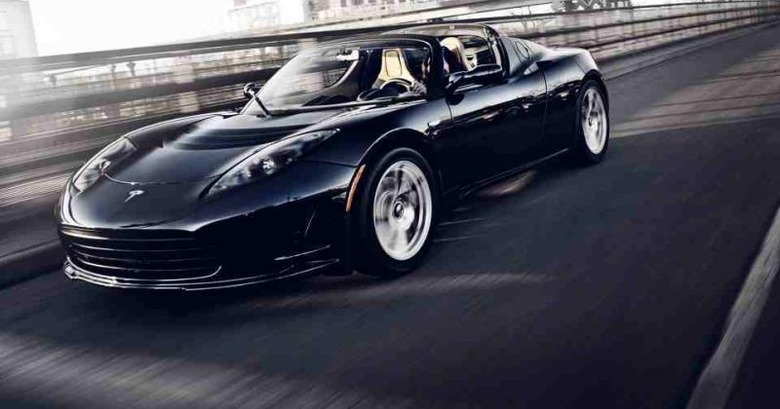 There is a saying about the best laid plans and that it happens to everyone, even the illustrious Elon Musk. The CEO of Tesla Motors, who also happens to hold SpaceX and its many ambitious projects (which includes an army of micro-satellites revolving around earth), has somewhat conceded to the constraints of a 24-hour daily cycle. Due to "crisis issues", the promised new Tesla Roadster is being delayed. The good news? Details about this mysterious new car will be revealed next week, right in the middle of the holidays.
Word of the successor to Tesla's electric sports car went out around June, when Musk himself hinted at a 2014 reveal at the company's annual shareholder meeting. Other than that, the CEO has been rather quiet about the whole endeavor, at least until now.
The Roadster has somewhat taken a backseat to the more recent Model S but the sports car enjoyed moderate success both in the US and elsewhere, with more than 2,400 cars reported to have been sold during its stint in the market from 2008 to 2012. Given that age, it is quite natural to see fans excited over the announcement of a successor, two years after the electric car left the production line.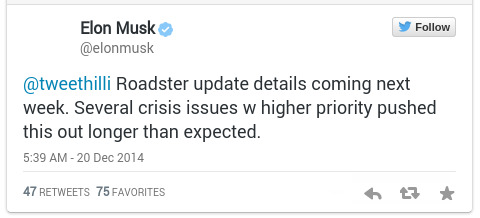 It seems, however, that fans will just have to wait a bit longer. Musk ominously refers to "several crisis issues with higher priority" as the culprit for the unexpected delay. Of course, we will most likely never know what those issues were, at least not without some secret insider information. Regardless of what those are, Roadster fans will definitely be glued to their screens when Tesla does come out with the big reveal, which may very well be the car maker's big holiday gift to its fans.
SOURCE: @Elon Musk