Tesla Reveals Paid Supercharging Switch In 2017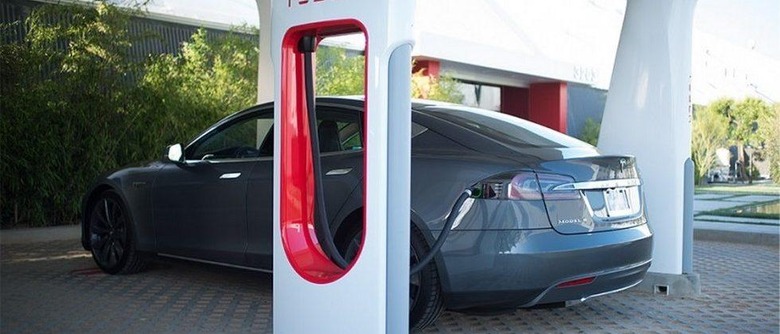 Tesla has announced some rather significant changes to the way it operates its network of Superchargers. Thus far, Supercharging stations placed around the world have been offered free of charge to Tesla owners on long distance trips, but that's about to change next year. Tesla has announced that starting in 2017, some Tesla owners will be charged a "small fee" to use these stations.
There are, of course, some exceptions to this announcement. The first is that any Tesla vehicles ordered before January 1, 2017 will be exempt from this change, assuming delivery is taken before April 2017. That phrasing seems to exclude any existing Model 3 deposits, and indeed, Tesla has confirmed to SlashGear that deposits don't count as orders in this case.
Even if they did, the Model 3 won't be delivered before April. This means that no Model 3 owner will be able to enjoy unlimited use of Supercharging stations. Instead, owners who order their vehicle after January 1 will receive 400 kWh of Supercharging credits on an annual basis, which according to Tesla translates to about 1,000 miles worth of free charging.
Once those Supercharging credits run out, you'll need to pay a "small fee" to continue using Superchargers. Precise details of this fee haven't been revealed yet, but Tesla says that it will be "charged incrementally" and will "cost less than the price of filling up a comparable gas car." Of course, with gas prices in a constant state of flux, it's difficult to pin down decent range for this fee.
Why is Tesla rolling out fees for Superchargers? The company says that this will "allows us to reinvest in the network, accelerate its growth and bring all owners, current and future, the best Supercharging experience." Be that as it may, we predict that a lot of folks who have put in a reservation for the Model 3 will be upset with this shift.
SOURCE: Tesla