Tesla puts three Model S cars on the test track at once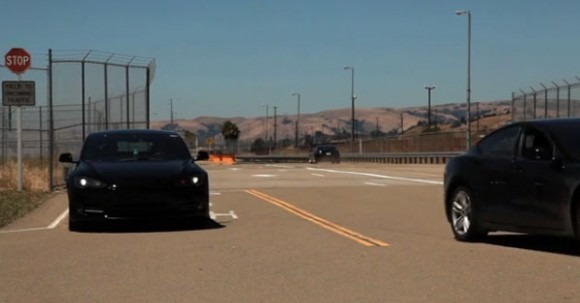 Tesla gained fame when the company launched the cool high-performance Tesla Roadster years ago. Tesla has stopped building the roadster for now to focus on its new and much cheaper model called the Tesla Model S. The Model S is a much larger car that can carry four adults and has a longer driving range than the Roadster could muster.
The Roadster promised about 200 miles per charge and the Model S claims 300 miles per charge. Tesla has started what it calls Alpha production on the Model S. The Alpha cars are for testing and showing media schleps that the cars are all about. Tesla too three of its alpha Model S cars to a test track and let them drive around.
The cars look really good and it never ceases to amaze me at the catch that with EVs you only hear the sound of the tires humming along. Tesla was nice enough to catch the test session on video for us to enjoy and you can check it out below.