Tesla Powerpack 2 system comes with "twice the energy density"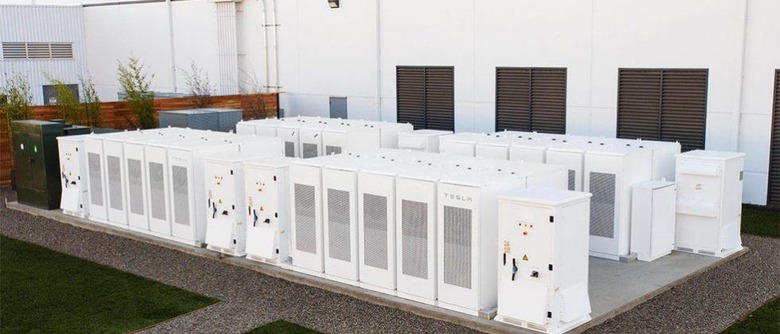 Tesla has a solar roof and Powerwall announcement coming today and ahead of that announcement Tesla is taking the opportunity to talk about its Powerpack shipments. While the Powerwall products are aimed more at the end user, the Powerpack products are more for utility and enterprise customers. Tesla rolled out its Powerpack 2 system in September of this year and so far the products in the Powerpack 2 range have proven popular and are shipping robustly.
The Tesla Powerpack 2 system has twice the energy density as the original Powerpack and is designed to be integrated into multiple levels of the power grid. Powerpack 2 also works with a new matched inverter that was designed by Tesla directly and made at its gigantic Gigafactory. Tesla maintains that Powerpack 2 is the lost cost and highest efficiency utility scale inverter out there.
Tesla claims that it has shipped almost 300 MWh of Tesla batteries to 18 different countries. It predicts that the impact and growth rate of energy products around the world will be far larger than the impact of electric vehicles alone. One of the big reasons why Tesla's Powerpack 2 has proven popular is ease of installation.
Tesla says that it has simplified the installation process of the entire Powerpack system thanks to integration of a number of components that were previously separated into the Power Pack inverter. Tesla is currently building Powerpack systems at its Gigafactory to be deployed later this year in projects including the Southern California Edison Mira Loma substation and the Kauai Island Utility Cooperative. Tesla and Panasonic have teamed up for solar panel production at its Gigafactory.
SOURCE: Tesla