Tesla plant incident injures 3 but unconnected with Model S fire furore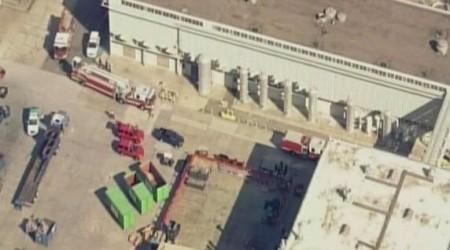 A incident at Tesla's Fremont, CA. factory has left three employees injured, the car company has confirmed today. Reports of an explosion were first made by NBC Bay Area, but downplayed by emergency services called to the scene, with a Fremont Fire Department spokesperson blaming "pressurized equipment that they use at the plant" but insisting that "there was no fire – no explosion."
Instead, it was an unspecified issue with one of the pieces of aluminum casting machinery that left three Tesla workers in Valley Medical Center's burn unit in San Jose.
"There was a failure in a low pressure aluminum casting press" a Tesla Motors spokesperson told SlashGear today "Three employees were injured by hot metal from that press. We are making sure that they receive the best possible care."
Tesla is yet to comment on the specific cause of the failure. In low pressure casting, melted metal – in this case aluminum, which Tesla uses for the body of the Model S among other parts – is pushed through a riser tube to a mold from the furnace, using a pressurized system rather than gravity to drive it. The advantage for Tesla is a reduction in turbulence compared to other methods of molding: that can cause premature wear to the molds themselves, as well as leave oxidation through the eventual parts.
It's not the only safety question hanging over Tesla in recent weeks. A third Model S incident, which saw another of the electric sedans catch fire, has led to renewed demands for a full battery safety inquiry by the NHTSA, though Tesla insists that no recall of the car is necessary.
Instead, the company publicly posted a testimony by the Model S driver in question, in which he credits the strength of the car's undercarriage for saving his life.