Tesla Patent Shows Off Dual Hinged Vertical Doors Destined For Model X

Tesla has been having a heck of the year with its Model S earning rave reviews and strong sales that allowed the company to pay back its government loans early. Tesla is already planning additional vehicle models, including the previously announced Model X SUV. One of the most interesting features of the Model X is a set of rear doors that open vertically allowing unfettered access to the interior of the vehicle.
The Model X was delayed until at least 2014. The patent was filed for on September 14, 2012. The patent is number 8,511,738 and the abstract describes a dual hinged vehicle door. The patent application abstract reads:
A dual hinged door assembly for a vehicle is provided, the assembly including an upper door portion and a lower door portion. The upper door portion, which may include a window, pivots about a primary axis formed by its juncture with a structural member in the roof. The lower door portion, which may include a window, pivots about a secondary axis formed by its juncture with the upper door portion. Primary and secondary drive systems may be used to provide independent powered motion of the upper and lower door portions. Each drive system may include a powered strut, e.g., a hydraulic strut, and a non-powered strut, e.g., a gas strut.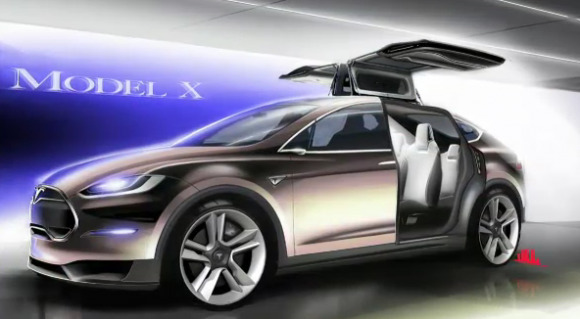 What that says in a nutshell is that the door mechanism may be an automatic powered system similar to the liftgate on many modern SUVs or a manually powered system using gas struts. The problem with traditional single hinged doors of this type is that they may not have adequate space to open in a normal parking lot situation. Tesla believes that its patent outlines a system that would allow greater access to the interior the vehicle without having to worry about space limitations in a parking lot or parking garage.
While the line art along with the patent shows doors that look very much like the Model X rendering above, it's worth noting that the patent doesn't say when or if Tesla will actually use this technology in its vehicles. The assignee on the patent is Tesla Motors, Inc. of Palo Alto California.
Thanks for the tip Anand!