Tesla Motors Announces New Details On Model S All-Electric Car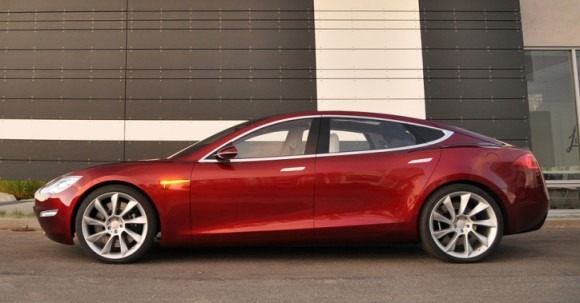 Details have come out today for Tesla's Model S Sedan's pricing and roll-out schedules. The all-electric car will start showing up on North American shores by mid-2012 and the first 1,000 Model S vehicles will be a part of the "North American Model S Signature Series." The limited edition series will feature a 300-mile range battery, special badging, and "an extensive complement of options".
Tesla expects to produce about 5,000 units in 2012, where it has already received 3,700 reservations that cost $5,000 a pop. The company plans to raise production in 2013 to 20,000 cars per year. The Model S should be showing up in Europe in the start of 2012 and for those European and Asian countries that require right-side drive models, those will be rolling out by mid-2013. For each launch there will be the same inaugural limited edition series as the North American release.
Other options of the Tesla Model S include a 160-mile and a 230-mile version. The 160-mile version will run you $57,000. The 230-mile version is $67,500 and the 300-mile version is $77,400. The car is eligible for a federal tax credit of $7,500. Tesla wants to make a serious splash and be a big player in the expanding all-electric car market. Hopefully they will come through with their claims and deliver their cars on time.
[via VentureBeat]