Tesla Model Y first ride: The new and the familiar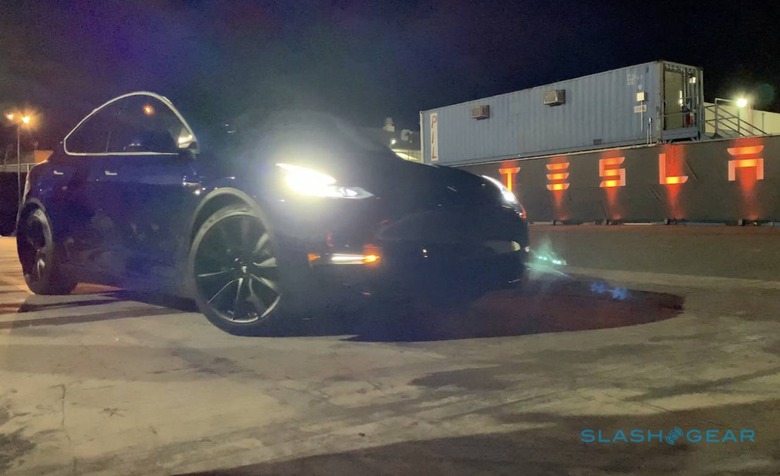 I just climbed out of the Tesla Model Y, and if first-impressions are anything to go by, Elon Musk's newest EV hasn't strayed far from its predecessors. The all-electric crossover isn't going to arrive with buyers until Fall 2020 at the earliest, but when it does I suspect they'll be struck more by how familiar it is, rather than how new.
Certainly, you may need to take two glances in order to tell which, exactly, you're looking at. The Model Y is taller than the Model 3, though not as significantly as you might think given it's officially billed as a crossover or compact SUV.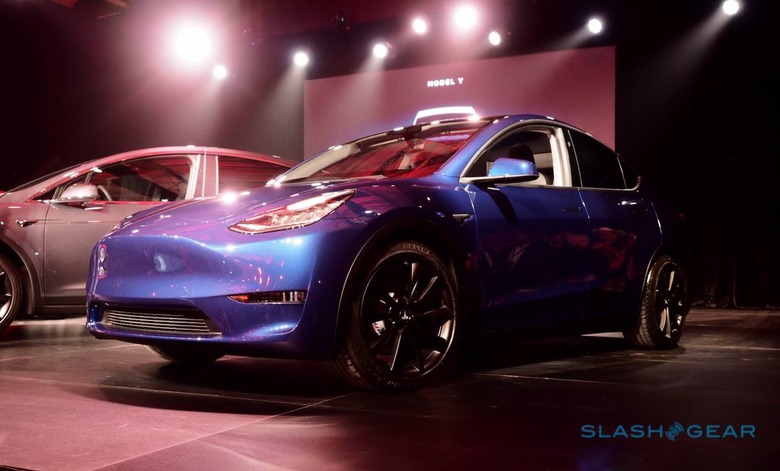 That same impression continues inside. You sit a little higher, though in the same seats as you'd find inside the Model 3. Tesla has added risers underneath them, to give that crossover height drivers prefer. The panoramic glass roof, though, is more akin to what you'd get in more expensive Tesla models. It'll likely be far more impressive in daylight than it was at night, helping keep the cabin light and airy – even if you're in the third row.
That third row of seats – which I wasn't able to sit in – is certainly going to be more cramped than, say, the rearmost seats in a Model X. Unlike in the Model S, however, they're forward-facing. I suspect you'll only want to put children back there for anything more than a ride around the block: leg room and head space are going to be limited by virtue of the Model Y's dimensions.
The dashboard is lifted from the Model 3, too. It's still a stark contrast to most of the other vehicles on the road today, dominated by a central, landscape-orientation touchscreen which handles all the infotainment, navigation, and HVAC duties, as well as keeping you appraised of your speed. It's also where you'll be controlling Autopilot – Tesla's Elon Musk says that the Model Y will have the hardware required for full self-driving when that's available, though it'll be a cost-upgrade and right now there's no telling when the regulators might give the green-light to actually activate it all.
With a whole hall full of press and the Tesla faithful to cycle through test rides, unsurprisingly the route wasn't exactly lengthy. Tesla had a side-street closed down for the purposes: the Model Y, with an official Tesla driver at the controls, went surging down it to show off its acceleration. Snappy enough, certainly, and it was the $51,000 Dual Motor AWD I was in, not the most expensive $60,000 Performance model.
According to the official specs, the Model Y Dual Motor AWD will do 0-60 mph in 4.8 seconds, and keep going until you hit 135 mph. The Model Y Performance trims the former to 3.5 seconds and nudges the latter up to 150 mph.
Of course there wasn't room to get anywhere near such speeds. Instead, our test driver flung the crossover from side to side to demonstrate how little body roll there is. That comes courtesy of a low center of gravity, the battery packs slung under the passenger compartment giving the Model Y a planted feel.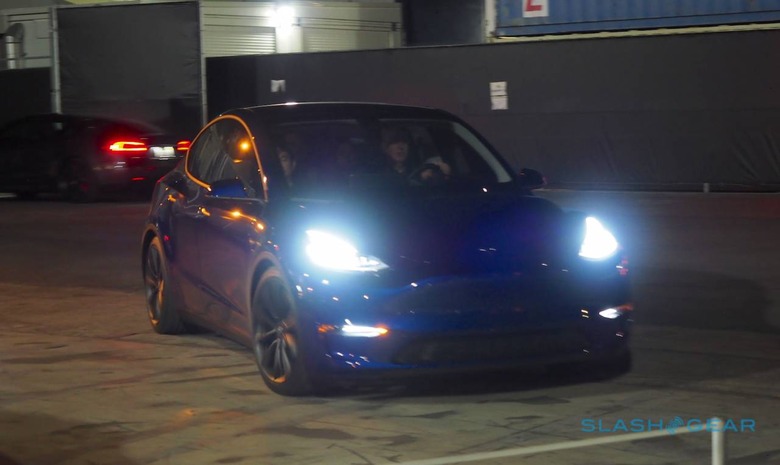 Obviously there's only so much you can tell from a brief ride in a car, when you're not the person behind the wheel, and it all takes place in the dark. Certainly my lasting impression is that, if you've been in a Model 3 before, the experience in the Model Y won't prove too much of a surprise.
Whether that's a good thing or not depends on just how much of an SUV you were hoping the Model Y would turn out to be. It's certainly a vehicle in the manner of the Model X: more like a curvaceous minivan or oversized hatchback than what might be thought of as a "true" SUV. Aerodynamics undoubtedly play a significant role in defining that, though it also has practical implications.
The hatchback trunk – exposing 66 cubic feet of cargo space – is a frequently-requested feature. Judging by the gasps of surprise from attendees at the unveil, the third row of seats was unexpected – and welcome – too. I suspect plenty of people will put down the extra $3,000 the upgrade costs, even if it means waiting until 2021 when Tesla says it will begin production.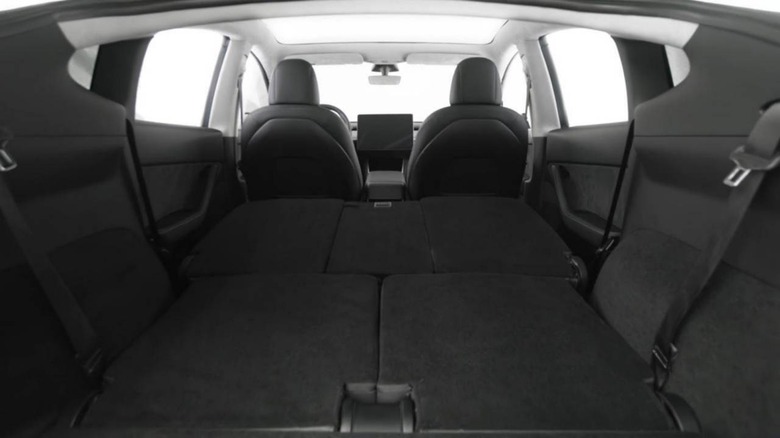 In short, it's the Model 3-based crossover we expected Tesla to make. I'm not going to make any grand assessments based on such a short experience, but the fact is that if your primary complaint with the Model 3 was that it lacked headroom, needed space for any extra small children you might need to transport, and could do with riding a little higher, then the Model Y checks off all those boxes.
Pricing kicks off at $39,000 before incentives, though that's for the Model Y Standard Range with a battery good for 230 miles. It won't ship until Spring 2021, however. If you want to be among the first batch of drivers, then, you'll need at least $47,000 for the Model Y Long Range. Reservations for the Long Range, Dual Motor AWD, and Performance are open now.