Tesla Model S Scores NHTSA's 5-Star Safety Rating Across The Board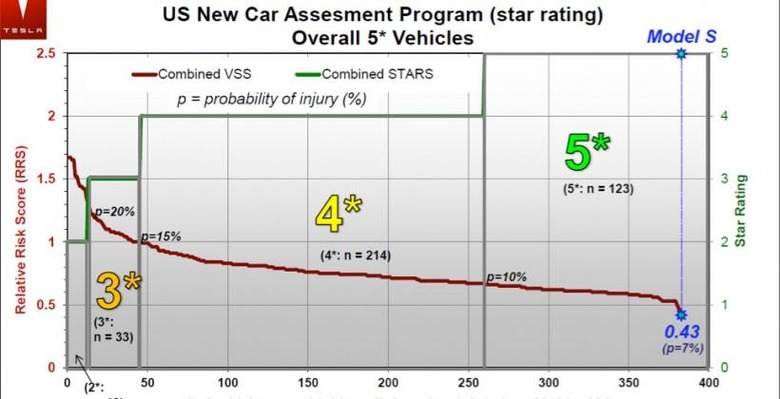 The Tesla Model S has achieved a new NHTSA safety record with 5-star ratings in every sub-category across the board. Other models that harbor the same title are small in number, representing about 1-percent of every car the agency tested. Furthermore, the overall score indicates another boasting point for Tesla – the Model S scored above 5 in some categories.
The individual categories aren't published with a rating that comes in at higher than 5. That doesn't mean a score wasn't higher, however, with one being able to discern such based on the overall score the vehicle achieved. In Tesla's case, its Model S was awarded with an overall score (called the Vehicle Safety Score) of 5.4 stars.
What this ultimately means is that, according to the NHTSA, among all other tested vehicles, the Model S is least likely to result in injury to driver or passengers – this includes among SUVs and minivans, not just sedans. Part of this high rating has to do with the lack of a big gasoline engine, giving the car more "crumple zone" in head-on crashes.
Among the tests was a side pole intrusion test, which is said to be one of the harder tests for a car to pass. Says Tesla, of the top 1-percent of cars that were tested, its Model S was the only to score in the "Good" category. The rear crash test, meanwhile, scored well due to a double bumper, something designed to protect the third-row passengers.
One interesting note concerns the roof crush protection test, which was validated at what Tesla says was an independent commercial facility. The machine used to perform the test broke at a bit above 4 Gs of force. In addition, the battery didn't result in a fire during any crash test, and Tesla says it doesn't know of any fatalities to have happened in its vehicles.
SOURCE: Tesla Motors