Tesla Model 3 prototype seen driving on California streets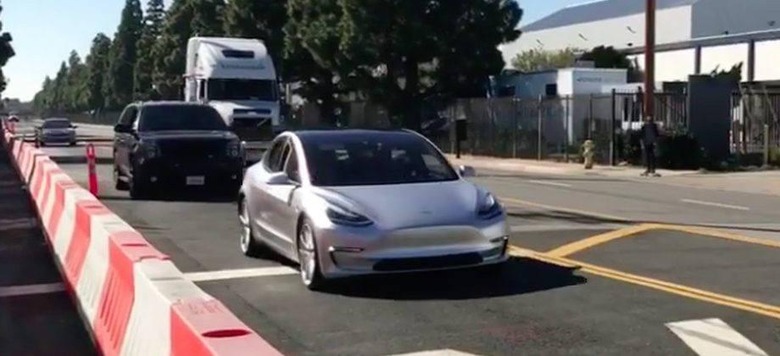 Tesla recently revealed that its upcoming Model 3 sedan will finally enter limited production later this summer, with full production to begin this fall. That means it will likely be quite some time before you start seeing Tesla's most affordable vehicle on your local streets, let along get to drive one yourself. But if you live in a certain part of California, you might just spot a prototype roaming around on a sunny afternoon.
That's exactly what happened earlier this week in the city of Hawthorne, with video of a Model 3 prototype rolling down a public road being shared on Instagram. The clip was shared by the account belonging to Unplugged Performance, a mod shop that specializes in customizing Teslas.
The video simply shows the Model 3 cruising down the road with its windows down, followed closely by a large black SUV. As you'd expect, the prototype wasn't venturing far out of Tesla's sight. Hawthorne, California, of course, is the home of not only SpaceX's Hyperloop track, but also Tesla's own design studio.
While it's not the most exciting car spotting you can imagine, it's still interesting to see one of the automotive world's most anticipated cars on a real-life road, rather than on a presentation stage.
SOURCE Unplugged Performance