Tesla Model 3 Performance and AWD specs, price, and Musk's big boast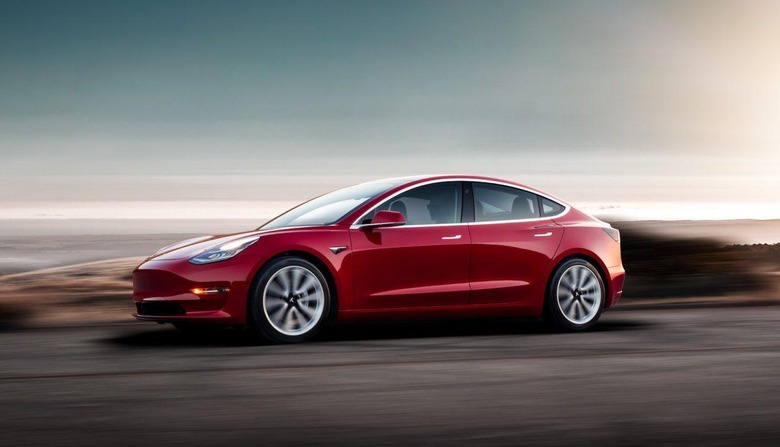 Elon Musk has revealed the key specs and pricing of the Tesla Model 3 Performance version and the AWD Model 3, as well as throwing down the gauntlet to one of BMW's most popular track cars. The outspoken CEO got chatty about the specs of the two most eagerly-anticipated variants of the more affordable electric car on Twitter late on Saturday, as the automaker put the final touches on the configurator.
Until now, Tesla's production line has been focused on a fairly limited array of options. The automaker chose to prioritize a single core configuration, in fact – the rear-wheel drive, extended range version with the Premium cabin upgrade – with a handful of extras available, in the hope of streamlining production. Those who live in areas prone to snow and icy conditions, however, or simply wanting more speed had been left waiting for more potent versions. Now, they're arriving.
The dual-motor Model 3 AWD puts an electric motor front and rear. One is optimized for power, Musk says, while the other focuses on range. Importantly, however, either can step in for regular use if there's a fault. "Car drives fine even if a motor breaks down," the Tesla CEO points out. "Help ensure you make it to your destination and don't get stuck on side of road in potentially unsafe situations."
The dual motor AWD option will be $5k, on top of the regular Model 3 price. Its range will be 310 miles, and it'll do 0-60 mph in 4.5 seconds. Top speed is 140 mph. In contrast, the current single motor car can do 0-60 mph in as little as 5.1 seconds.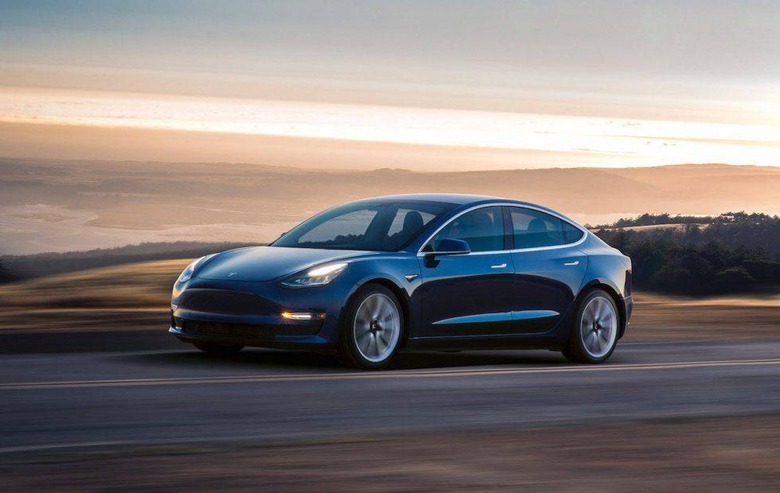 For those that want an even faster dash, there's the Model 3 Performance version. On the outside, there'll be a few clear indicators that you're looking at a more potent version of the car. It'll have a carbon fiber spoiler, for example, along with 20-inch Performance wheels. The inside will get a black and white color scheme, meanwhile; that'll initially be limited to the Performance spec car, though will eventually be offered as an option on the regular model. Musk says he expects that to happen in 3-4 months, depending on initial demand.
Of course, it's what's underneath the sheet metal that's most important. There, Musk says, the Model 3 Performance will get an AC induction front motor and a switched reluctance, partial permanent magnet rear motor. Each will have silicon carbide inverters. Since not all electric motors are created equal, Tesla will be sifting through them to pick out the units with the highest sigma output for the Performance-spec cars, and then putting them through double the burn-in process to get them ready for the road.
The numbers certainly are nothing to be sniffed at, on paper at least. 0-60 mph will come in 3.5 seconds, Musk claims, and the car will keep going until 155 mph. Range will be 310 miles, though you can expect that to be a lot less if you have the sort of heavy right foot that tests the three and a half second boast regularly.
The price will be $78,000, according to the Tesla CEO. All of the options, larger wheels, and fancier paint are included, Musk says, though you'll still need to pay extra for Autopilot. He's not being shy about taking on some performance royalty, either: the Performance-spec Model 3 will be roughly the same price as a BMW M3, he says – that starts at $66,500 before options – "but 15% quicker and with better handling."
Cost of all options, wheels, paint, etc is included (apart from Autopilot). Cost is $78k. About same as BMW M3, but 15% quicker & with better handling. Will beat anything in its class on the track.

— Elon Musk (@elonmusk) May 20, 2018
Indeed, Musk promises, the car "will beat anything in its class on the track." It's a not-unimpressive boast, though there's no denying that electric vehicles – with their instantaneous delivery of torque – can be much faster in a straight line than their gas counterparts. Often that advantage can be lost, mind, when it comes to cornering and longevity: electric vehicles are typically on the heavy side, what with the battery pack weight, and can experience brake overheating when pushed hard for multiple laps.
All the same, we won't argue with another performance sedan option, and this will all be good news for Model 3 reservation holders who've wanted a more potent version of the car. Deliveries of the dual-motor Model 3 are expected to begin in July 2018, though when you'll be able to order one will depend on your place in the original reservation queue.