Tesla Cybertruck reservation count revealed by Elon Musk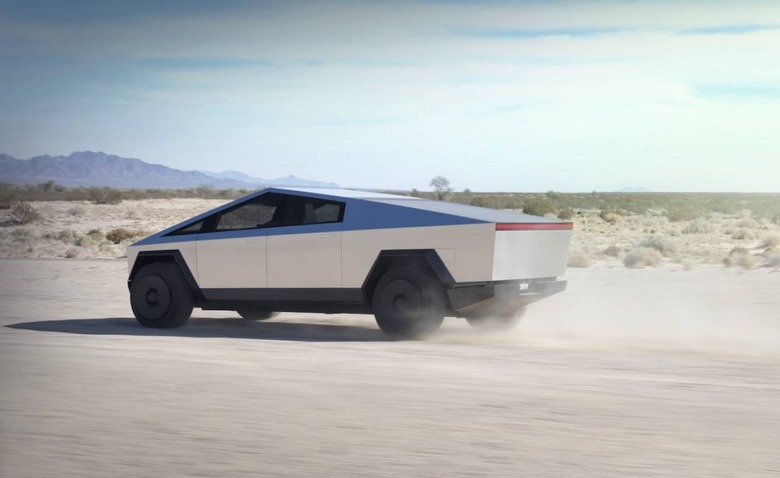 The Tesla Cybertruck may have proved unexpectedly divisive with its retro-futuristic design, but early reservations for the all-electric pickup have still been impressive. Tesla CEO Elon Musk revealed today just how many people coughed up a $100 refundable deposit for the EV truck, as well as a breakdown of which configurations they're most interested in.
Announced on Thursday evening in Los Angeles last week, the Tesla Cybertruck proved to be a surprise even for the controversial automaker. Musk had warned previously that the design would be something people either loved or hated, but few quite expected the Blade Runner-inspired, Stealth Bomber-esque riot of angles that emerged under the lights.
It was, Musk insisted, a whole new way of looking at utility vehicles, and priced accordingly. Although orders for the new truck won't open until closer to production being ready to begin, in late 2021, Tesla is following its earlier pattern of allowing potential buyers to stake a place in line with a deposit. The fully-refundable reservation fee is just $100 this time around, much less than for the launch of previous Tesla vehicles.
According to Musk today, there have been 146,000 Cybertruck reservations since the system opened up after the Thursday night event concluded. Of that number, 42-percent apparently selected the Dual Motor AWD Cybertruck. That's the middle-tier model, which Tesla says will be priced from $49,900.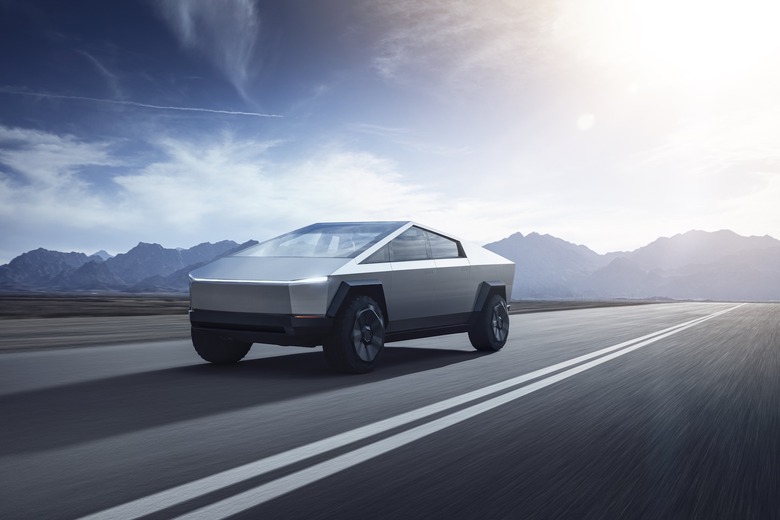 It's estimated to be good for 300+ miles of range, as well as more than 10,000 pounds of towing capacity. Tesla says it should do 0-60 mph in under 4.5 seconds, too. If buyers want the Full Self-Driving package – which sets the Cybertruck up with what Tesla claims will be the required hardware for autonomous driving, even if it won't necessarily be available when the electric pickup actually ships – that's an extra $7,000.
There are likely to be extra options available too, but they'll be confirmed closer to full orders actually being placed. One will be the truck's finish, which was initially billed as only being the bare stainless steel of the bodywork and vinyl wraps used to give it a color. Since then, though, Musk has said there'll be a Cybertruck "black oxide" edition, finished in black not silver.
146k Cybertruck orders so far, with 42% choosing dual, 41% tri & 17% single motor

— Elon Musk (@elonmusk) November 23, 2019
According to Musk, 17-percent of reservations have been for the most affordable, Single Motor RWD Cybertruck, from $39,900. That has just one motor and is rated at over 7,500 pounds of towing. Tesla says it should do 0-60 mph in under 6.5 seconds, and is expecting a range of more than 250 miles.
Finally, 41-percent have put down reservations for the top-spec Tri Motor AWD Cybertruck. That has three motors and the best capabilities: an estimated 500+ miles of range, over 14,000 pounds of towing capacity, and 0-60 mph in under 2.9 seconds. It's priced from $69,900, Tesla says. Production of the Tri Motor version is expected to begin last, in late 2022.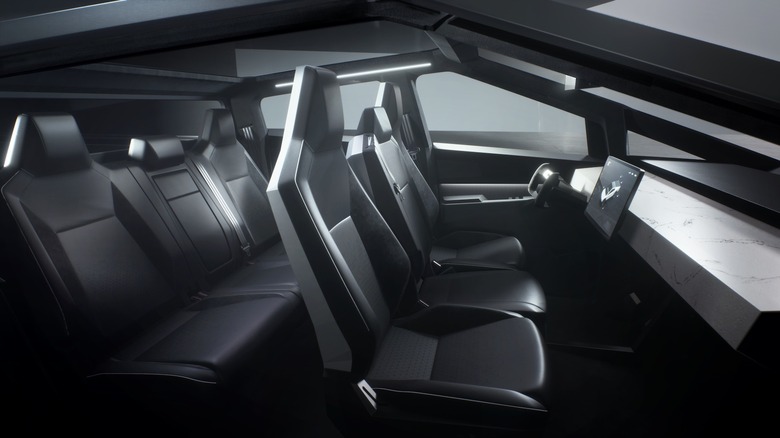 All in all, it's a healthy $14.6 million injected into Tesla's bank account – just in time, indeed, to help with Model Y crossover production starting. It's worth remembering, of course, that these are refundable deposits, and won't be converted into actual orders until late 2021. Some reservation holders may only be pinning a place in line and be undecided, in the end, as to whether they'll actually convert that into an actual Cybertruck order.
Still, it's a big number considering it's been less than two days since we saw the Cybertruck revealed. Tesla's design – unlike any other vehicle in production today – has both its fans and its detractors, though the automaker insists that it's not only striking but more efficient for manufacturing (not to mention the body being apparently bulletproof and the glass – reveal demo mishap notwithstanding – shatterproof) and for working as a utility vehicle.