Tesla cuts jobs as it pushes for cheaper Model 3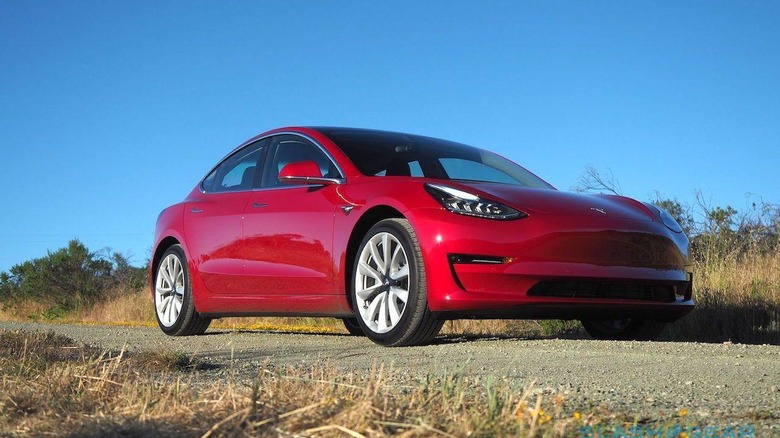 Elon Musk delivered a company update for Tesla today, and it's basically a rollercoaster of ups and downs. The update – an email that was sent to employees this morning and later shared on Tesla's website – details the successes and difficulties the company faced throughout 2018. It also talks about goals for 2019, and what the company needs to sacrifice in order to meet those goals.
There's both good and bad news about what Tesla plans to achieve in 2019. The good news is that the company is making a major push to produce a cheaper Model 3 – though Musk says that the Model 3 was the best-selling premium vehicle in the US last year, its starting price of $44,000 is "still too expensive for most people." The overarching goal is to make Telsa's EVs and solar energy products "cost-competitive with fossil fuels," something that's obviously quite difficult to do.
Complicating matters is that US government incentives for buying electric vehicles will be halved on July 1st and go away entirely at the end of the year, meaning consumers will ultimately be paying more to own one of these cars. So, not only is Tesla in a position where it needs to figure out how to make the Model 3 less expensive, it has to do so with a diminishing US tax credit that incentivizes buying one.
It also has to do all of this while making a fairly thin profit. Musk says that in Q3 2018, Tesla turned a 4% profit. Though results for Q4 aren't quite settled yet, he says that "preliminary, unaudited results indicate that we again made a GAAP profit, be less than Q3." For the current quarter, Musk sounds hopeful that Tesla will again make a profit, but it doesn't sound like it'll be anything substantial.
Tesla, essentially, finds itself in something of a tough place at the moment, as it needs to cut costs while at the same time ramping up production. With that in mind, Musk announced today that Tesla will be laying off 7% of its full-time employees and retaining "only the most critical temps and contractors." At the same time, Tesla will look to increase Model 3 production rates to meet its goals for the year ahead.
"Higher volume and manufacturing design improvements are crucial for Tesla to achieve the economies of scale required to manufacture the standard range (220 mile), standard interior Model 3 at $35k and still be a viable company," Musk wrote in his email. "There isn't any other way."
Musk speaks rather bluntly about the difficult road ahead for Tesla in his email, but should everything go according to plan, we should see the mid-range Model 3 launch in all markets around May. Then it's presumably on to making that $35k Model 3, which would certainly do a lot to bring more customers to the company.
Musk ends his email by thanking the people who are departing Tesla in this move. To everyone who will be remaining with the company, he once again reiterates the difficulties ahead, but says that he believes Tesla has "the most exciting product roadmap of any consumer product company in the world." We'll see if Tesla manages to meet these goals for 2019 despite cuts to its workforce, so stay tuned for more.