Tesla ATV is Cybertruck's sidekick at launch Elon Musk confirms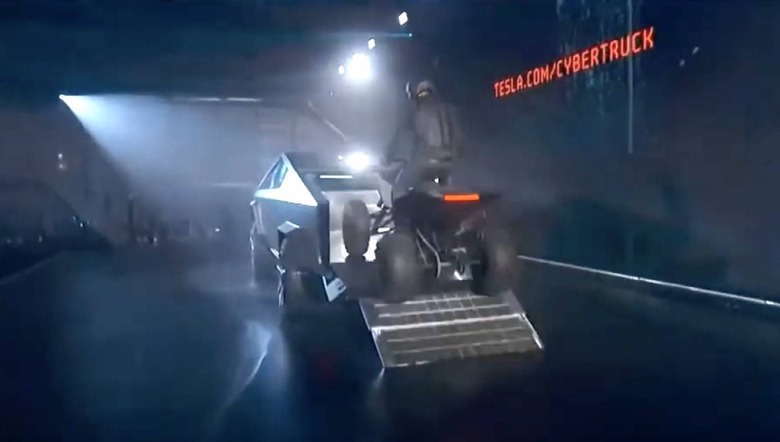 Elon Musk didn't just have one shock unveil last night, the Tesla Cybertruck, but a "one more thing" for those attending the electric pickup's reveal – the Tesla Cyberquad. As the name suggests, it's an electric ATV (All Terrain Vehicle): effectively a quad bike partner for the Cybertruck.
It's a good pairing. Truck buyers are often ATV buyers too, wanting a smaller, more maneuverable vehicle for accessing uneven terrain, venturing into environments where a full-sized vehicle – even one designed, as the Cybertruck appears to be, for a Mad Max-style apocalyptic future – cannot.
Electric ATVs are much rarer than their gasoline counterparts, though the Tesla Cyberquad isn't the first we've seen. DRR, for example, offers the Stealth, a 4kW ATV that can do 35-38 miles on a charge and has 2WD with a rear differential. It's priced from $7,599.
Telsa's angle, though, is integration. The Cyberquad fits perfectly into the 6.5-foot bed – or "Vault" as the automaker prefers to refer to it – of the Cybertruck, with the tailgate hinging down and then a two-piece ramp sliding out to the ground. Standard air suspension, with 4-inches of range, can lower the pickup to make docking the ATV more straightforward.
Once it's in place, it can charge using the Cybertruck's battery. Tesla has outfitted the bed of its pickup with a 110/240V outlet, which can drive power tools, keep an electric cooler running if you're tailgating, or top up the battery on the Cyberquad. There's also an air compressor back there, tapping into the same system that the pickup uses for its air suspension system, for keeping the ATV's tires up to pressure.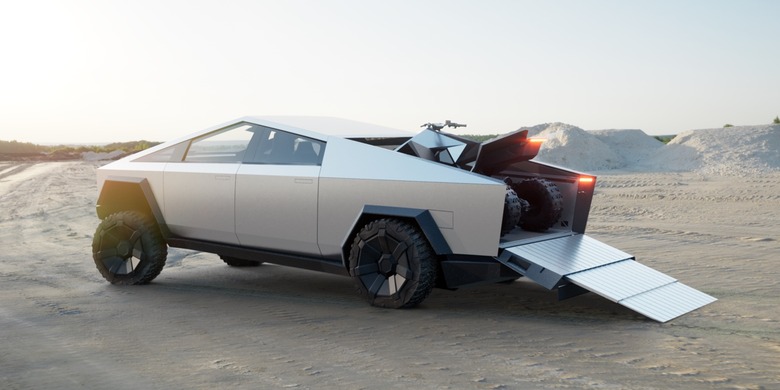 What we don't have, though, are any more specific specs about the Tesla ATV. As Musk's "one more thing" at the end of the event, no real details on the drivetrain, the battery, range, or performance were confirmed.
There's time for them to work out those details, however. Musk confirmed on Twitter that the electric ATV will initially be offered as an option for Cybertruck buyers, rather than being sold separately. It'll seat two, he said.
Tesla 2 person electric ATV will come at first as an option for Cybertruck

— Elon Musk (@elonmusk) November 22, 2019
Reservations for the Cybertruck are open now, requiring a $100 refundable deposit, though orders won't be taken until closer to production kicking off. Tesla says that should be late in 2021. The pickup itself will be priced from under $40,000 before any relevant incentives – Tesla may be out of US federal tax credits for EVs as of the end of this year, but there are still state subsidies and incentives that can take some of the sting out of going electric – and offered in three versions with different ranges, power, and drivetrains.