Terraria Coming To Xbox 360, PS3 Next Year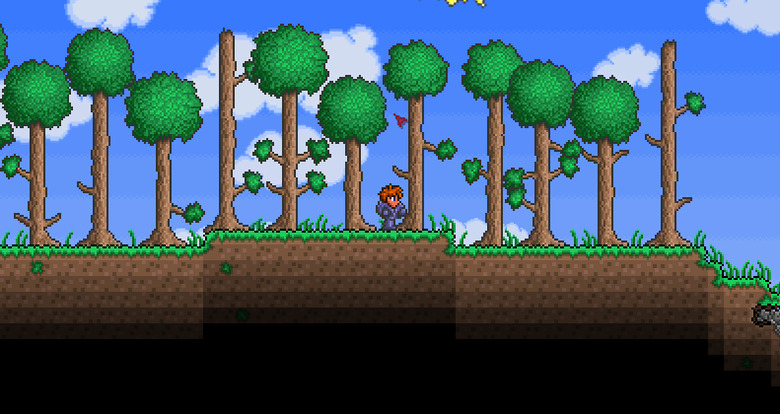 Well here's a surprising bit of gaming news: it turns out that indie gem Terraria will be making its way to Xbox Live Arcade and PlayStation Network next year. Publisher 505 Games announced the console version of the much-loved PC title today. Sadly, there isn't a solid release date for the console version of the game yet, with 505 Games and developer Engine Software merely saying it'll be out "early next year."
Terraria launched at a time last year when Minecraft fever was in full swing. For those who've never heard of Terraria before, here's a quick breakdown: Terraria is a 2D side-scrolling adventure RPG in which the main goal is to explore, build, and craft. It sounds a lot like Minecraft on paper, but in practice the two are actually quite different. Terraria has some strengths over Minecraft (like combat), whereas Minecraft has some over Terraria (like building). Terraria was met with great critical reception upon release, and went on to be a big seller on Steam – the PC version has sold over 1.6 million copies since release.
In a statement today, Terraria creator Andrew Spinks expressed his excitement in the fact that the game is coming to consoles. "I can't say how excited I am to finally have Terraria come to Xbox 360 and PlayStation 3!" he said. "To see it come so far is a complete shock, especially after such humble beginnings. It's always been my dream to have as many people as possible know and enjoy Terraria as much as I have, and this is another big step in that direction!"
Spinks also teased that 505 and Engine are planning some additional content for this console release. Naturally, we don't know what that new content is yet, but that's definitely something to get excited about. Re-Logic (developer of the original PC version) added quite a bit of content after Terraria first launched, but has now halted production on the game as it works on other projects. Perhaps PC players will get this bonus content that will be included in the console version? A Terraria addict can only hope. Stay tuned for more information.