Tenqa SP-99, SP-109, and HP-109 Bluetooth speakers and headphones hit Amazon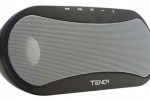 We may receive a commission on purchases made from links.
Of all the technologies that we use the most on our mobile phones, wireless connectivity is the most important to most of us. The typical smartphone or feature phone today offers Wi-Fi and Bluetooth connectivity and Bluetooth is arguably the more important of the two allowing for hands free connectivity and more.
Tenqa has announced that its line of Bluetooth A2DP stereo speakers are now available on Amazon.com. The line includes the SP-99 Bluetooth wireless portable speaker system with music and volume controls right on the speaker. Wireless range is 33 feet and the SP-99 sells for $79.99.
The SP-109 is a slim speaker that is designed to sit on a shelf or desk and play music from up to 33 feet from the wireless phone. It sells for $89.99 and is available now. The Tenqa HP-109 is a set of Bluetooth stereo headphones with a behind the head design that will stay in place during activity like running or exercise. The headphones also have a mic for answering calls hands free style. The Tenqa HP-109 headphones are available now for $59.99.