Temple to Nokia throws open its doors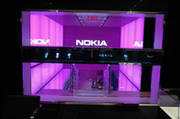 Looking like a trendy winebar or Tron-themed S&M club, the new Nokia store in America's fashionable NYC opens in just two days time (9th September), where it will be only the second in the country.  Promising highly-trained staff with melted Nokia silicon running through their veins and a great big hug of product support and after-sales care, it's not really just a shop but a tiny theme-park experience.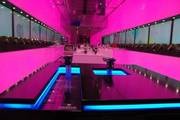 Potentially more exciting than the phones themselves is the store design – luminous colour-changing panels on the first two floors, with flat-panel displays behind each product that wake up and educate you on the handset itself when you pick it up.  The top-floor is a veritable Vertu penthouse, including the first real-life place you can play with the new Constellation series.
Click through to the suave buggers at Cool Hunting for a video of the cellphone presentations.
Nokia Flagship Store, NYC [Cool Hunting]