Temple Run VR makes a run for Samsung's Gear VR headset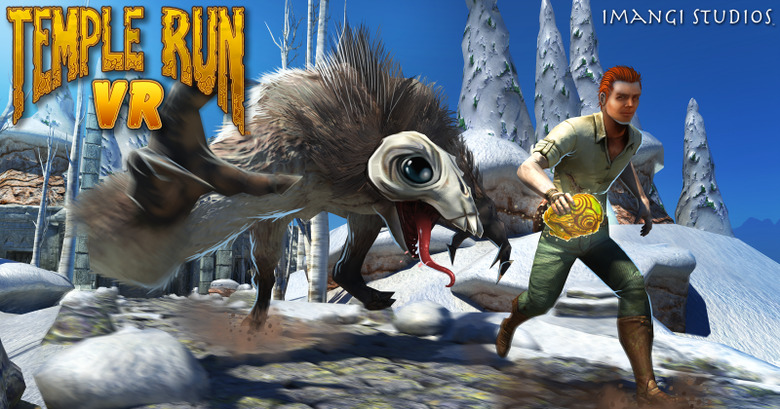 There's a saying that goes "build it and they will come", or something like that. Samsung has indeed built it, with "it" referring to one of the very few, if not the first, commercial virtual reality headset. And now they are coming, and by "they" we mean the apps and games that should make VR actually useful. Almost appropriately, one of the first to the race is Temple Run. Now you can, as the game describes it, "run for your life" in full view.
For a time, Temple Run was one of the top games on mobile devices, giving birth to a seemingly endless line of endless runner games. Given the nature of the game, a first person perspective seems to be the most immersive and most exhilarating way to experience the game. And nothing says "first person" better than a virtual reality headgear.
Developer Imangi Studios was one of the first to jump on the VR ship when Samsung and Oculus revealed the Gear VR. At first, it seemed that the Temple Run for that platform was going to take on a slightly different approach but the end result happily matches the kind of endless running insanity that everyone loves (or loves to hate).
The plot, if you could still call it that, of Temple Run VR is pretty much the same as the first mobile versions of the game. You are an adventurer that has taken an idol from a mysterious temple and now you have to run for your life away from demon monkeys. While the game was already adrenaline-pumping on a smartphone, having to see the paths, cliffs, and obstacles definitely takes the game to a whole new level. Not to mention the horrifying demon monkeys!
Temple Run VR is now available as a free download for the Gear VR Innovator Edition which finally launched this month.
SOURCE: Imangi Studios