Temple Run 2 for iOS sees 20 million downloads in four days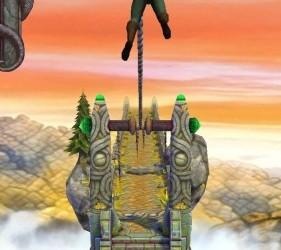 After hitting number one in the iTunes App Store after just 12 hours of availability, Temple Run 2 has now been downloaded over 20 million times over the past four days, six million of which happened on the first day alone. Not only is it number one in the App Store, but it's also number one on the highest-grossed list, thanks to the game's premium in-app purchases.
Imangi Games announced the news this afternoon, with co-founder Keith Shepherd saying that the company is "thrilled players want more of the Temple Run universe," and the developer plans "to grow and expand the game over the coming months." Temple Run 2 was arguably one of the most successful launches in iOS app history, with Angry Birds Space and Google Maps right up there alongside the new game.
If you're not familiar with the Temple Run series, don't worry, we'll get you caught up (I only started playing the original just a couple weeks ago). The is all about making it as far as you can before you die. You take on the role of an explorer attempting to steal an idol from a temple while being chased by weird demonic monkeys. Along the way, you avoid various obstacles, but if you make a mistake and run into an obstacle or fall off the edge, you're done.
The original Temple Run has been downloaded over 170 million times, and while the sequel is only available on iOS devices currently, an Android version is scheduled for release on January 24 — just a few days from now. We have no doubt that the Android version will be just as successful as the iOS version, so be prepared for even more downloads come later this week.