Telson UMPC prototype with KDC glasses-free 3D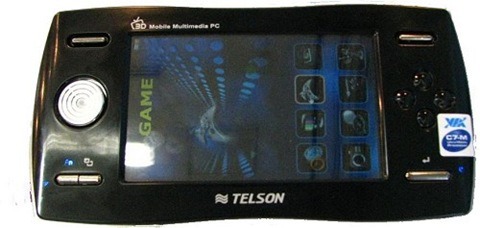 Not much detail as yet on this one, but ostensibly it appears to be a prototype or reference design for a UMPC with a 3D screen.  The display panel itself apparently can be used without needing special glasses, and is the collaborative product of Masterimage and KDC, of whom Telson are an affiliate.  As for the device itself, it's based on a 1.2GHz VIA C7-M processor and running Windows XP on 512MB of RAM.
Other hardware includes a choice of 30GB or 60GB hard-drive; the screen itself is a mightily-compact 4.3-inches, running at 800 x 480.  As you can see, while intended as a UMPC, Telson have positioned the prototype as a gaming device. 
The 3D aspect is poorly explained.  It appears to comprise a separate stereoscopic LCD layer overlaid onto a normal TFT LCD panel, that Masterimage describe as a "Unique Cell-Matrix type barrier".  The outcome is a screen that can switch between 2D and 3D, works in portrait and landscape modes and can be scaled to multiple sizes and resolutions.  Back in August 2007, KDC announced it was developing a plant with three-million yearly production capacity of the 3D display.
[via UMPC Portal]